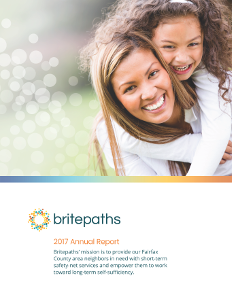 Britepaths is pleased to share our 2017 Annual Report!

In 2017, Britepaths partnered with the United Way of the National Capital Area and Fairfax County to administer and grow the Financial Empowerment Center at South County; enjoyed shared success through expanding our Financial Literacy partnerships; and launched our 3 Cups of Coffee® short-term mentoring program. 
Britepaths' staff harnessed resources provided by our supporters and the energy of 1,080 volunteers working 8,953 hours to achieve the following results:
Served 761 people with Financial Literacy Program Services
Served 177 people at the Financial Empowerment Center at South County
Mentored 31 Naomi Project moms
Mentored 20 3 Cups of Coffee® clients
Worked with 20 Project BRIDGE Program families
Provided 1,076 families with Food Assistance
Provided 210 families with Financial Assistance
Provided 2,540 students with School Supplies
Provided 551 families with Holiday Assistance
To request a printed copy, phone 703.273.8829 or email info@britepaths.org. 
Click Here to learn more about Britepaths' Financials
Categories: