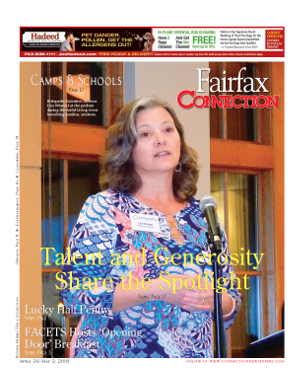 The April 25 issue of the Fairfax Connection highlights Britepaths' April 21 Artful Living event held at the Sherwood Center in association with the Fairfax Spotlight on the Arts Festival.

The evening included an art show with works by local artists with art for sale; music by Batida Diferente; appetizers, wine and craft beers; a client testimonial; raffles; and a live auction to raise funds to support Britepaths' programs and the Spotlight on the Arts Scholarship Fund.
The article quotes Britepaths Executive Director Lisa Whetzel: "There is a common misconception that people in dire straits just need to pull themselves up by their bootstraps," said Whetzel. "If they just work a little harder, then they would succeed like the rest of us. People do need to work hard. However, in our experience, we see that people who come to us often don't have any boots. Here at Britepaths, we provide the boots." 
Visit our Artful Living Page to learn more about the event and view photos and learn more about the event.
Categories: