Give Hope and Help this Holiday Season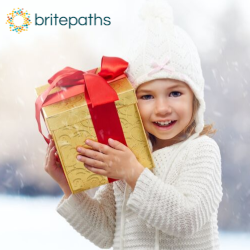 Though we live in a community of affulence, tens of thousands of families in the Fairfax County area are unable to afford a holiday meal or even gifts for their children. Britepaths is dedicated to helping those in need through our Holiday Program. Britepaths matches families in need with local groups, businesses and individual families who are willing to sponsor families for the holidays. We are committed to helping 800 families this year but we need YOUR help to make this possible.
Will you consider being a corporate sponsor of the Holiday Program and make the holidays brighter  for families in need this holiday season?
CORPORATE SPONSORSHIP LEVELS
SHINING STAR
A $10,000 donation can provide 44 families of 4 with 2 holiday meals & gifts for children.
WISH GRANTER
A $5,000 donation can provide 100 families of 4 with gifts for children.
HEART WARMER
A $2,500 donation can provide 100 elderly people with a holiday meal.
SMILE MAKER
A $1,000 donation can provide 10 large families with Thanksgiving dinner.
STOCKING STUFFER
A $500 donation can provide 10 small families with a holiday meal!
Contact D'Ivonne Holman at 703.273.8829 ext. 555 or dholman@britepaths.org for more information.