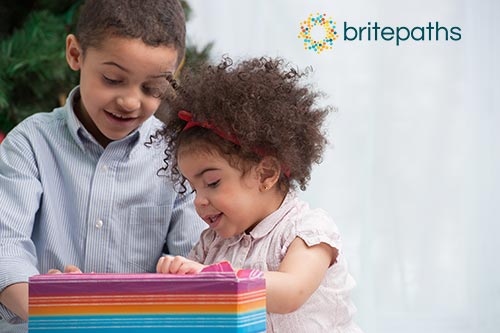 FOR IMMEDIATE RELEASE
Contact: Lisa Whetzel, lwhetzel@britepaths.org, 703.273.8829
FAIRFAX, VA (November 19, 2020) – Fairfax-based nonprofit Britepaths is seeking donations from the community to provide holiday meals and gifts for children for 500 Fairfax County area families in need.
Due to Covid-19 restrictions, Britepaths is assisting families this year by mailing gift cards that will allow parents to purchase food and gifts for their children. Donations of funds or gift cards are greatly needed to ensure that all families will receive assistance.
To donate and learn more, visit Britepaths' Holiday Program page at britepaths.org. In addition to on-line donations, checks or gift cards may be mailed to Britepaths at 3959 Pender Drive, Suite 200, Fairfax, VA 22030. For more information, contact Britepaths at 703.273.8829 or vdelarosa@britepaths.org.
Staff at a number of Fairfax County Public Schools with which Britepaths partners referred families with demonstrated need to receive assistance. Participating schools, located in Annandale, Bailey's Crossroads, City of Fairfax, central Fairfax County, Falls Church, Herndon and Vienna, are listed below.
Britepaths' Executive Director Lisa Whetzel said, "The holidays will be so different for all of us this year, and especially challenging for families who are struggling from lost income, illness and other effects of the pandemic. It is a heartwarming feeling to know your act of kindness can make such a big difference for our neighbors at a profoundly difficult time. We hope community members will be inspired to make the season brighter for hard-working families who may otherwise go without holiday meals and presents for their children."
Britepaths is grateful to its Holiday Program sponsors, Walmart Store #5880 in Fairfax City and Store #5936 in Vienna/Tysons.
Britepaths is in its 36th year of providing assistance and a way forward for struggling individuals and families throughout the Fairfax County area. During COVID-19, Britepaths is providing greatly enhanced Food and Financial Assistance services to Fairfax County area residents in crisis, thanks to our Grantors and donors, and Virtual Financial Literacy, Job Readiness services and more via the Financial Empowerment Center at South County. Throughout the year, the organization relies on funding and volunteer support from businesses, individuals, community organizations and faith communities to provide services that: Stabilize Families: supplemental food and financial assistance; Build Resilience: Financial Education, Project BRIDGE, Network Up, Avenues to Career Training and the FECSoCo services; and offer Seasonal Supports: Back to School, Food4Thought and Holiday assistance. More information is available at: britepaths.org.
Families Receiving Assistance Through Britepaths' Holiday Program Have Children Attending These FCPS Partner Schools:
Fairfax High School Pyramid
Daniels Run ES, Fairfax City
Fairfax Villa ES, Fairfax
Lanier MS, Fairfax City
Eagle View ES, Fairfax
Providence ES, Fairfax City
Justice High School Pyramid
Bailey's Upper ES, Falls Church
Bailey's Lower ES, Bailey's Crossroads
Beech Tree ES, Falls Church
Belvedere ES, Falls Church
Glen Forest ES, Falls Church
Parklawn ES, Alexandria
Additional Schools
Poe MS, Annandale
Cedar Lane School, Vienna
Luther Jackson MS, Falls Church
Woodburn ES, Falls Church
Dranesville ES, Herndon
Fox Mill ES, Herndon
McNair ES, Herndon
###