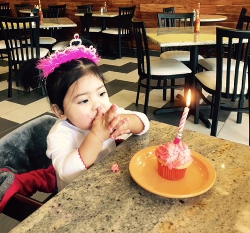 We are so proud of Samia and grateful to her Naomi Project mentor, who is helping her raise a happy, healthy baby girl!

Samia is a 19-year-old first-time single mom. She and her mother arrived in the United States from Honduras when Samia was just 16 years old. She did not speak English, and she and her mother had no family or social connections here. When Samia became pregnant, she was in 11th grade at a public high school.
This situation caused great strife in her family, and she felt very scared, isolated and alone. The father of the baby was not involved and Samia had no job, no health insurance, no social services support and no hope for her future.
Luckily, Samia was referred to the Naomi Project by the social worker at her high school. She was able to finish the first semester of her junior year before she gave birth to a beautiful baby girl in January 2017. Days after the baby girl was born, Samia was matched with a wonderful Naomi Project mentor who continues to be a great teacher and source of support and comfort and encouragement to Samia and her baby. 
When their journey together began, the mentor worked with Samia to get her and her baby signed up for social services supports to help them through this challenging time.  She also spent a lot of time educating Samia on how to be a mom – the importance of taking the baby to well doctor visits and immunizations regularly, safe sleep, and assistance with breastfeeding. She also helped Samia think about her own future and the importance of continuing her education. When the baby was 9 months old, Samia's mentor helped her register to go back to high school. She also worked with Samia to make sure that the baby had a safe place to stay while Samia was at school.
Samia's living situation continues to be a challenge and she struggles with being a single parent and trying to balance school, work, and other responsibilities. Her mentor helps her with all of these things and they spend a great deal of time talking about life skills, friends, family, school, staying positive. They also talk a lot about how she is being a good role model for her daughter by going back to school so she will be able to support them in the future. Samia enjoys school and is looking for a part time job to support her and her baby. Her mentor is so proud of the work that Samia has done to be a good person and a good mom, and she continues to provide her with emotional and social support.
Learn More and Get Involved:
Learn More about Naomi Project
Be a Naomi Project Mentor: New Mentor Training Saturday, May 19 in Fairfax City!
Categories: