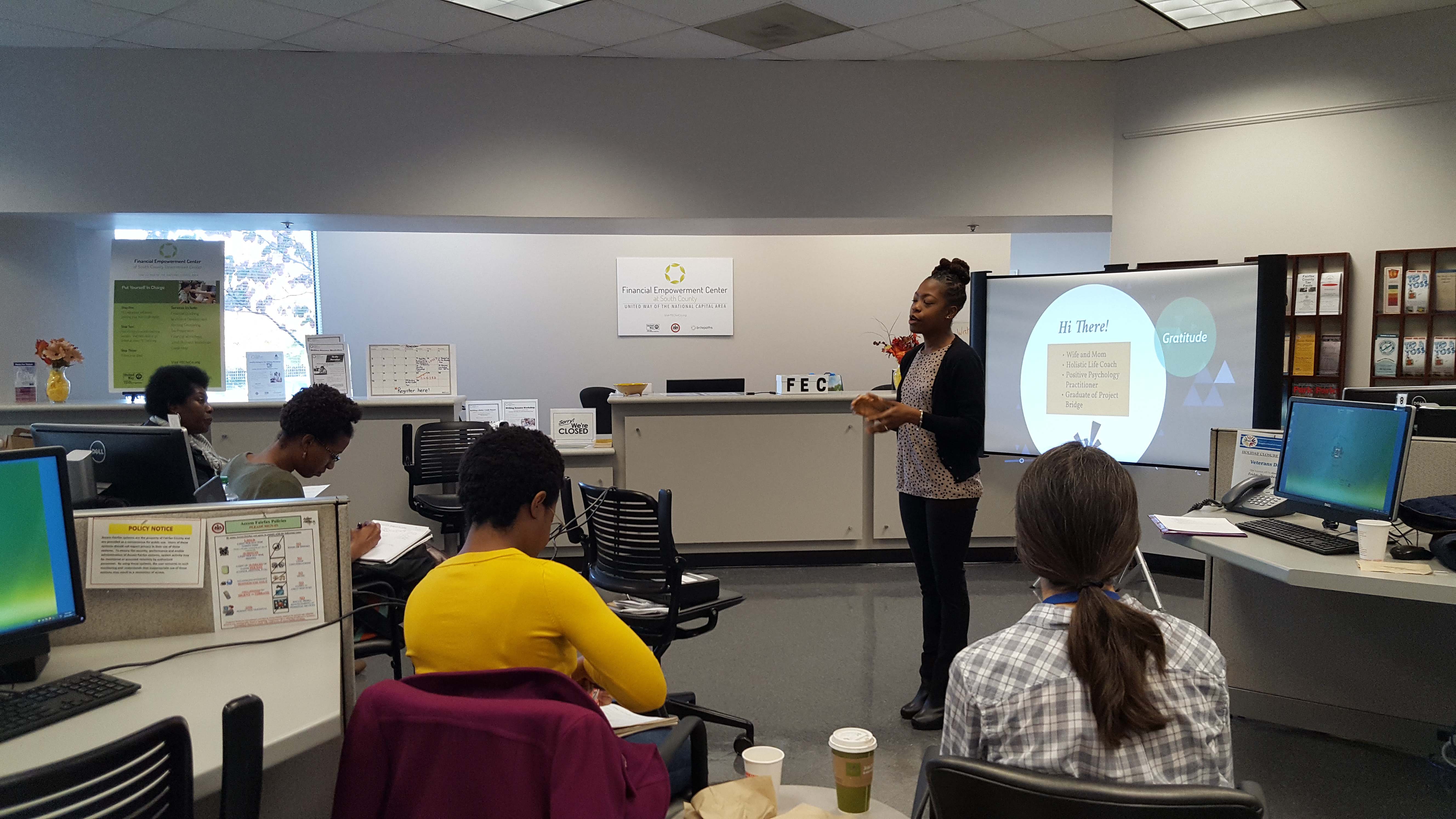 Give from your Heart without emptying your Wallet! That was the prevailing theme at our Budgeting for the Holidays workshop on Saturday, November 11, 2017 at the Financial Empowerment Center at South County. This was our first joint workshop with our Project BRIDGE Program clients and clients of the new FEC in Alexandria.
DéShaun Stafford, a Project BRIDGE graduate who is working toward earning a certificate in holistic coaching, proposed the workshop to us and led it. She handed out a worksheet that helped participants to map out their current expenses that must be met, and then determine what their holiday budget should be after those critical needs are met.
She advised participants to make a list of who they'll be shopping for, and to think about different ways to give that don't involve spending a lot of money, such as volunteering together, making homemade gifts, etc. She also led a discussion about gratitude to help guide the group's thinking about the meaning behind giving gifts. She asked participants to think about what were their favorite childhood gifts, and what they are thankful for today.
***
About the FEC: Britepaths partners with the United Way of the National Capital Area and Fairfax County's Neighborhood and Community Services to operate the Financial Empowerment Center at South County. The FEC offers Financial Coaching, budgeting classes and workshops in a variety of topics, including personal finance, homeownership, career development and life skills. Learn more about the FEC's services and how to volunteer at: http://FECSoCo.org.
About Project BRIDGE: Britepaths' Project BRIDGE Program is a mentoring program that offers working mothers in the Fairfax County area stability services (if needed) while working intensively over a year with a Financial Mentor and Britepaths staff to set and achieve financial and career development goals that will help them become financially self-sufficient.
Categories: