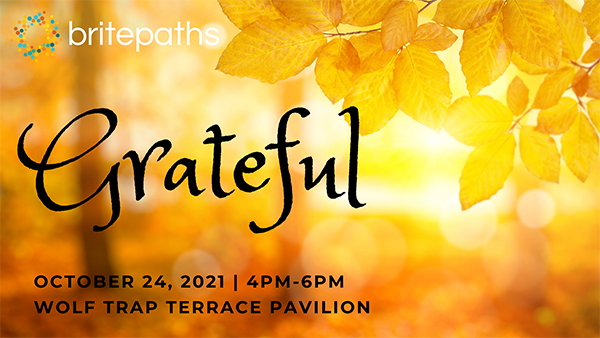 We are so grateful to our community, and are looking forward to safely connecting in person outdoors after such a long and difficult time apart.
We hope you'll join us for an autumn afternoon at the beautiful woodland Wolf Trap Terrace Pavilion. It's covered and screened so we will be able to celebrate safely, rain or shine. We'll enjoy beer, wine and delicious appetizers, live music by Batida Diferente, and a few words of inspiration.
Grateful
Sunday, October 24, 4-6 p.m.
Terrace Pavilion
Wolf Trap National Park for the Performing Arts
1551 Trap Road, Vienna, VA 22182
Not able to join us? You can also make a donation or sponsor the event at the link above to provide help and hope to our neighbors who are struggling due to the pandemic.
Questions? Contact events@britepaths.org or 703.273.8829
Thank You to Our Sponsors!
Artful Living Cancelled: We had hoped to hold our indoor Artful Living event in October, but determined it would be best to cancel due to concerns about Covid-19. Click Here to read more.
Feeling Grateful? Share your thoughts! Through all we've collectively experienced, we continue to be grateful for the opportunity to serve our community. For the remainder of this year, we'll be focused on being grateful, and we hope you'll join us. We know and feel that our client families are grateful to be seen and supported. And we are still deeply grateful to you, our extended community, for continuing to make this work possible.
If you're feeling grateful and would like to share your thoughts in a brief statement, photo or video, email it to volunteer@britepaths.org, and we'll share your sentiments along with others from clients, staff, volunteers and supporters. You may also tag us @britepaths on Facebook, Twitter and LinkedIn, or @britepathsfx on Instagram.