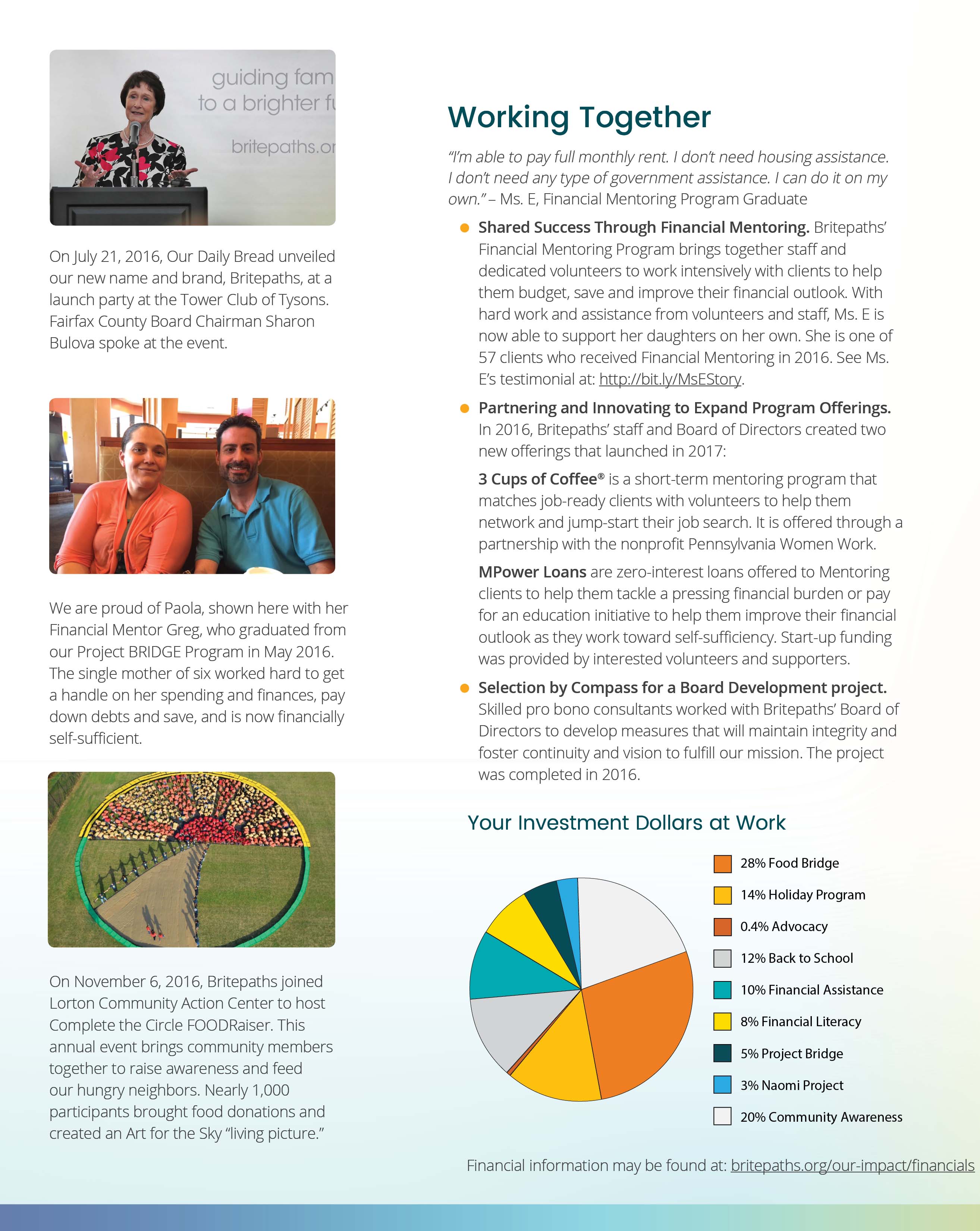 Britepaths is pleased to share our 2016 Annual Report: Working Together, Changing Lives!

In 2016, Britepaths enjoyed shared success through Financial Mentoring, partnering dedicated volunteers with 57 clients to help them improve their financial outlook. We also created two new program offerings that launched in 2017: 3 Cups of Coffee and MPower Loans. And, Britepaths' Board of Directors worked throughout the year with Compass consultants to complete a board development project.
Britepaths' staff implemented a name change and rebranding, while harnessing resources provided by community members and the energy of 1,293 volunteers working 9,143 hours to achieve the following results:
Served 717 Financial Literacy clients through classes, clinics and/or mentoring. 46 Mentoring clients graduated.
Provided temporary or emergency Food Assistance to 320 households.
Granted 281 households Financial Assistance to help them catch up on rent, utility bills or vital car repairs.
Served 14 Project BRIDGE families who are working toward sustained financial self-sufficiency. Four graduated.
Supported 28 new and expecting moms in the Naomi Project to help them have healthy pregnancies and establish healthy and nurturing practices for raising their babies.
Provided Holiday Assistance to 2,924 households, harnessing community support to provide holiday meals and gifts to children in need.
Provided Back-to-School Assistance to 2,600 children in partner schools within Fairfax County Public Schools.
To request a printed copy, phone 703.273.8829 or email info@britepaths.org. 
Categories: