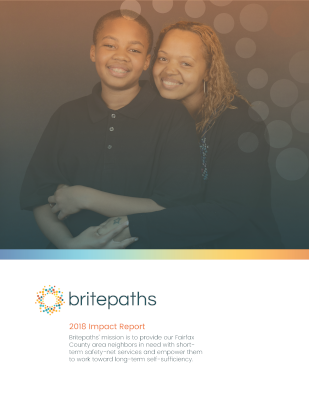 Britepaths is pleased to share our 2018 Impact Report
Thanks to the generosity of supporters like you, in 2018, Britepaths expanded our Workforce Development offerings; experienced amazing growth at the Financial Empowerment Center at South County (FECSoCo); and leveraged partnerships to increase our supports for children. 
Britepaths served 7,151 households in 2018. To accomplish this, our staff harnessed resources provided by our supporters and the energy of 934 volunteers working 10,410 hours to achieve the following results:
Served 2,264 people with Financial Literacy and Workforce Development Services
Served 1,401 families with Food Bridge and Financial Assistance Supports
Served 4,942 children with Food4Thought weekend food packs, Back to School supplies, Holiday gifts and Financial Literacy
To request a printed copy of our 2018 Impact Report, phone 703.273.8829 or email info@britepaths.org. 
Click Here to see Britepaths' Financials
Categories: