Did you know? In the U.S., 84% of the country's household wealth is owned by white families. Black and Hispanic families account for only 4.1% and 2.5% of the nations wealth, respectively. And according to the Federal Reserve, those numbers have remained unchanged for more than 30 years.
On May 20, 2021, Britepaths hosted our second virtual Town Hall: Resiliency Programs Through an Equity Lens. The panel discussion was engaging and informative, covering topics ranging from America's racial wealth gap to the psychology of money management. We were joined by special guests Jon Dauphiné, CEO of the Foundation for Financial Planning and Erica James, a dedicated Britepaths volunteer and Certified Financial Planner. Also lending a perspective to the conversation was Britepaths Financial Literacy Program Director Marcelle Miles.
Click Here or page down to watch the Town Hall
Contact Shannon Bryant at sbryant@britepaths.org or 703.273.8829 with questions.
---
Town Hall 1: Stability Programs Through an Equity Lens
We enjoyed the discussion at our Virtual Town Hall on April 22. Dawn Hyman of Fairfax County's One Fairfax initiative talked about equity versus equality, why disparities continue to persist, and how we all can use our growing understanding and resources more intentionally to bring about real, lasting change in our community. Our Programs Director Christina Garris discussed the evolution of our Food Bridge and Financial Assistance Programs and our ongoing efforts to meet our neighbors where they are and serve them in an equitable manner. Video Recording Below.
Recommended Reading on Racial Equity
- White Fragility by Robin DiAngelo
- How to be an Anti-racist by Ibram X. Kendi
- The Warmth of Other Suns by Isabel Wilkerson
- The Sum of Us by Heather McGhee
---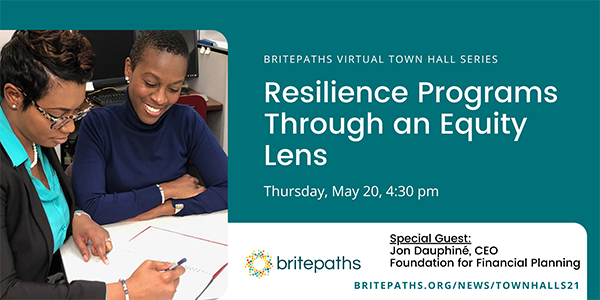 Categories: