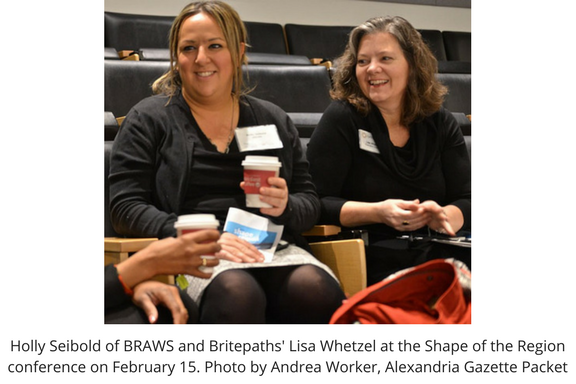 How can our community work together to help our neighbors who are struggling succeed? Britepaths' Executive Director Lisa Whetzel attended the Shape of the Region Conference on February 15, hosted by the Community Foundation for Northern Virginia and Northern Virginia Chamber of Commerce, and was inspired by the discussion.
She was interviewed by Connection Newspapers, and her comments are included in its February 20 article about the event.
The article states: "Lisa Whetzel, of Fairfax City, is the executive director of nonprofit Britepaths. She admitted that even with her in-depth association with the most vulnerable of the region's populace, some of the data from the Opportunity Index still came as a surprise, 'but this is just the kind of information we all need. It's local, granular.'"
"Whetzel also found the event 'inspiring and uplifting. Together we can do things.' Immediately following the conference, Whetzel attended the quarterly meeting of her peers in other nonprofits. 'The conference got us going with great conversation and idea exchanges. We will be really looking to see if we have taken a deep enough dive through the equity lens.'"
READ the Connection Article
LEARN MORE about the Opportunity Index
LEARN MORE about the Shape of the Region Conference
Categories: