Please join us in congratulating Dolores "Didi" Dorsett, runner up for Foundation for Financial Planning and Financial Planning magazine's 2018 Pro Bono Award!
READ the Article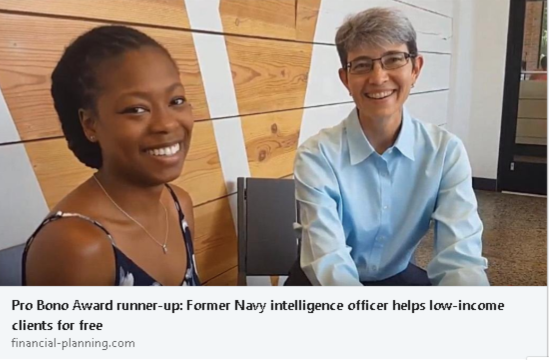 We are so proud of Didi and grateful for her work helping 75 (and counting) clients at our free Financial Counseling Clinics get a handle on their finances. We are also proud of Project BRIDGE Program graduates DéShaun and DaJuan who began their journey with Didi toward financial self-sufficiency at a UCM of Alexandria clinic, and loved working with her so much they asked her to be their financial mentor!
"After 20 years in the Navy and another seven with a defense contractor, Dorsett says, she was ready for a change. 'I wanted something different and more meaningful,' she says, 'a sense of being able to give back.'"
The Foundation for Financial Planning has supported Britepaths' free Financial Counseling Clinics for several years. In 2017, the organization granted us $30,000 to support our 2018 Counseling program, and we recently received word of a $30,000 grant for the program in 2019. We are grateful for the FFP's continued support of our work in the community. 
---
Learn More:
Categories: