Representatives from five of our eight Food4Thought Program partner schools joined us for lunch on June 8 to celebrate the year. From left are, ODB's Mila Cobos, Dina Koch and Sara Boehm (back) of Woodley Hills ES, Melissa Lottchea of Cub Run ES, ODB's Christina Garris, Sue Heard of Mosby Woods ES ES, Kristen Wilson (back), Kirsta Davisdon and Jean Wyman of Marshall Road ES, Saundra Honeysett of Little Run ES and Annemarie Harthun of Mosby Woods ES.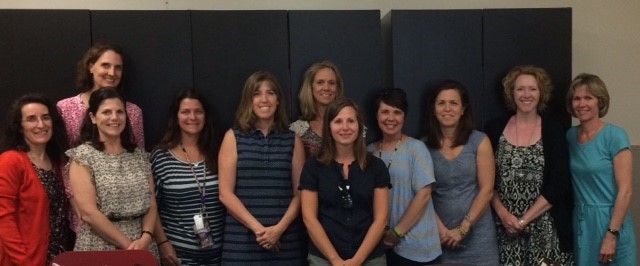 Note: Our Daily Bread became Britepaths in July 2016
On June 8, 2016, Our Daily Bread celebrated another great year of Food4Thought! We are so grateful to the caring Fairfax County Public Schools staff and administrators as well as many parent volunteers who have been working hard all year to make sure that kids in their schools whose families are struggling can bring home extra food to eat over the weekend!
Our Programs Director Christina Garris invited representatives from all our participating schools to come to ODB's office for lunch and talk about their successes and challenges over the school year, and exchange ideas and best practices. Many of our partner schools are gearing up to help their families over the summer as well. A Walmart Foundation grant we recently received will give each program some extra funds to finish out this school year, provide for families over the summer or get their programs off to a great start in the fall. Our partner schools are finishing up the 2015-2016 school year serving a total of 450 kids a week.
In May, the schools reported that they distributed the following numbers of packs per week:
Marshall Road ES, Vienna – 63/week
Daniels Run ES, Fairfax City – 90/week
Mosby Woods ES, Fairfax – 90/week
Fort Hunt ES, Alexandria – 34/week
Woodley Hills ES, Alexandria – 40/week
Little Run ES, Fairfax – 13/week
Cub Run ES, Centreville - 45/week
Providence ES, Fairfax City - 75/week
Total: 450 packs per week
Most of our schools will not be in a position to accept donations over the summer. But you can help them at any time by making aDonation to ODB's Food4Thought Program that will be passed through to a school you designate, or distributed to the schools with the greatest need.
We are always interested in partnering with more Fairfax County Public Schools to help them run their own weekend food pack programs. Contact Christina Garris at cgarris@britepaths.org or 703-273-8829 or visit our Food4Thought page to learn more.
Categories: