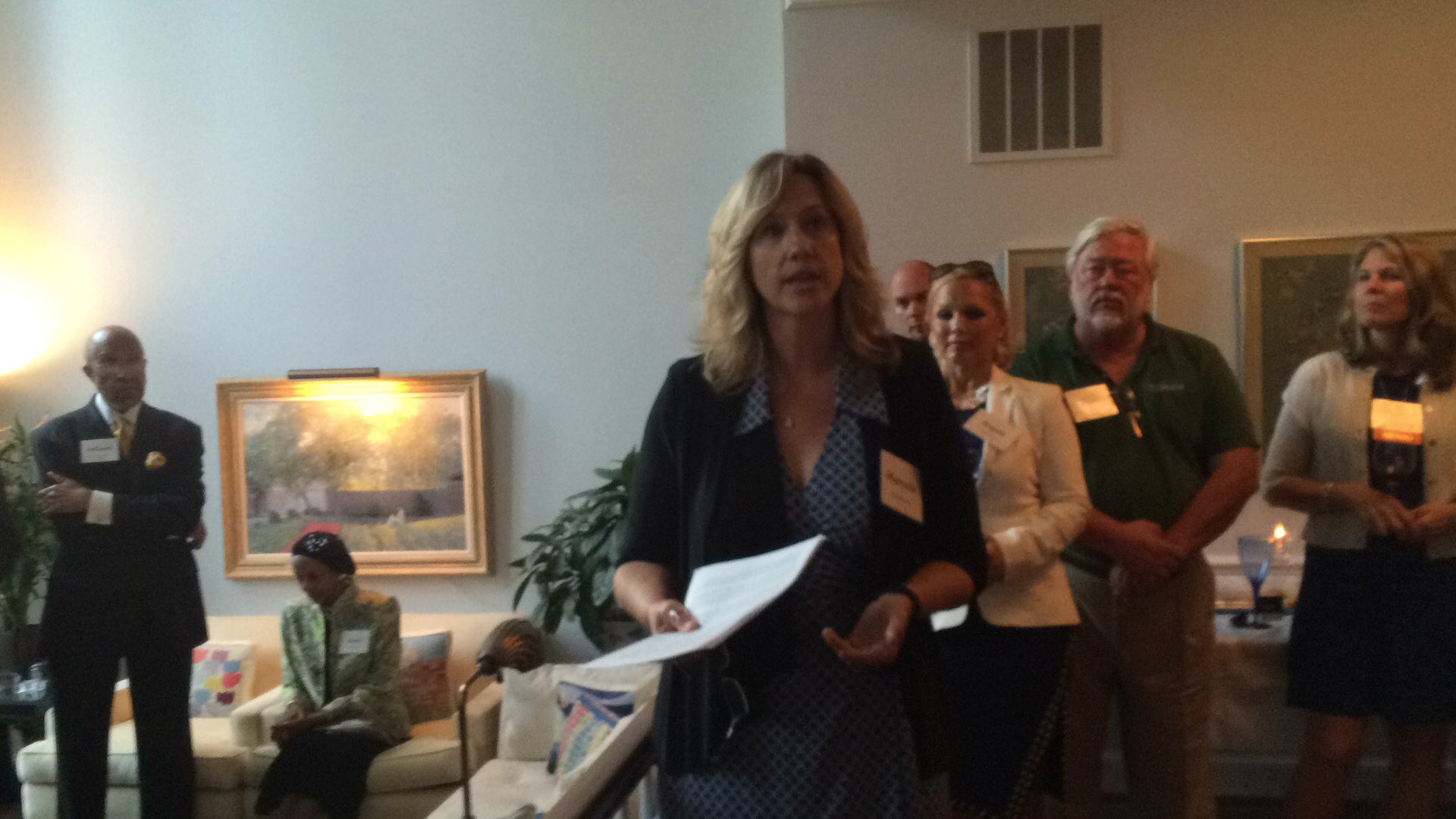 Britepaths' Financial Literacy Program Manager Marcelle Miles spoke at an annual Board and Trustees event for a Britepaths grantor, the Foundation for Financial Planning, on June 21, 2016. She spoke about how free Financial Counseling Clinics (FCCs) have helped hundreds of individuals and families improve their financial outlook since a grant from FFP helped us pilot the program in 2011. She also told the inspirational story of Mr. and Mrs. S, who have greatly improved their financial outlook since participating in an FCC back in January. Here are her remarks:
Foundation for Financial Planning (FFP)
June 21, 2016
Marcelle Miles, Financial Literacy Program Manager for Britepaths (formerly Our Daily Bread)
Thank you for inviting me to speak to you about some of the work we do in the community.  Britepaths offers pro-bono Financial Counseling Clinics to low- and moderate-income clients in Northern Virginia. We appreciate the Foundation's past support, which allowed us to develop this program. The Foundation for Financial Planning, in partnership with the local Financial Planning Association chapter originally supported the implementation of a pro-bono pilot program in 2011, and then the expansion to a second location in 2013. The volunteers who assist with these clinics are dedicated Financial Planners who advise individuals and families. At the clinic, the Planners analyze each client's financial picture and give them at least five concrete action steps that they can take immediately after the clinic to improve their financial situation. These clinics allow us to access a large underserved population who could not afford to pay for expert advice. In the first two years, we served about 100 people in one-to-one engagements, then doubled that the following year. The support of the FFP was key to getting our programs up and running.
Since 2014, we have served nearly 500 people. During this period, we tracked outcomes by doing pre and post surveys 90 days after one-to-one engagements, through the clinics and also our one-to-one Mentoring program. The outcomes showed that 86% of respondents improved their financial habits and were in a better financial position.
Here's an example of how the FCCs helped a family we are currently working with:
I received a Social Worker's referral for financial literacy services for Mr. and Mrs. S. They are young, 27 years old, married and have two small boys, ages 2 and 4.  They were behind on their rent by more than $1,100. Though they both had jobs, they were not meeting their monthly expenses. Mr. S is a barista at a coffee shop but was recently promoted to manager. Mrs. S has some community colleges credits and is a medical assistant, with aspirations to become an RN. Each of them has a smaller second job as well.
For many of our most successful clients, the jumping off point for financial stability is attending one of our clinics. Mr. and Mrs. S attended the January clinic this year. They had such a good rapport with the pro-bono Financial Planner, Didi Dorsett, they requested her as their ODB Financial Mentor. She agreed. Although "they have run into bumps in the road" as Didi calls it, they have also been making great progress in some important areas:
They are tracking their expenses and developed a spending plan, becoming aware of wants versus needs and making adjustments accordingly. Mrs. S. is keeping a clipboard with her to organize her monthly bills and correspondence and is exploring apps to help her organize her finances.
They are paying down debt, due to diligence with their spending plan and also through savings achieved by receiving supplemental food through ODB's Food Bridge Program. As a result, their high-interest credit card debt will be completely paid off in 4-5 months.
They began an emergency savings account and have committed to saving at least $25/month. They have agreed to participate in ODB's Matched Savings Program and will be monitored for a year. Their goal is to save $500 or more and ODB will match it if they consistently deposit money without withdrawing, teaching long-term savings.
Mr. S was already enrolled in his company's 401K, but Mrs. S was not. Didi pointed out that the employers matched funds was "free money left on the table," and now she is planning to enroll in her plan.
They reviewed their student loans and repayment options and have discussed education and career goals, including the financial implications of taking on debt to secure future career opportunities. Mr. S's company has a generous higher education plan, and Mrs. S is researching tuition reimbursement programs through her employer.
They are learning about their personal differences in their approaches to money and applying their strengths to their financial lives. Mr. S. became more engaged and excited when talking about longer-term financial growth, and Mrs. S enjoys the management of the day-to-day finances.
They made withholding adjustments to their W-4's, and filed their 2015 taxes.
By providing the opportunity to access experts in Financial Planning, motivated clients like Mr. and Mrs. S will have an excellent chance to achieve their financial goals.
Their Financial Planner and Mentor is a member of the FPA of the National Capital Area and has enjoyed helping this family. Didi told me she uses the Foundation's Consumer Resources free workbooks and worksheets to help ODB clients at the clinics, and with the S Family. She was very touched when she was recently given a beautiful drawing from the clients' sons and told me, "this is all the thanks I need."
We find that many of our Pro-bono Financial Planners return month after month to volunteer at our clinics.  They find it a rewarding experience and feel they are making a difference.
Generally, our clients are the "working poor": They work but have low incomes and could not otherwise afford the expert financial advice that we provide. They haven't been taught much about money management in their lives. The gift we can give them is hope for their future. There is a noticeable difference in the demeanor of a client who walks through the door of our clinic and when they leave. When they arrive, they are often despondent, and when they leave they are filled with hope and a plan for how to move forward. With the support of the Foundation, we've given them not just pro-bono help, but also help for a better future!
###
Britepaths partners with United Community Ministries in the Alexandria area, and Western Fairfax Christian Ministries, Ox Hill Baptist Church and Fairfax County Neighborhood and Community Services in Western Fairfax, to bring free Financial Counseling Clinics to low- to moderate-income adults in Northern Virginia. Our Alexandria and Chantilly clinics are currently on break for the summer, but will start up again in September. Visit our Financial Counseling Clinic page to learn more. Visit our Financial Literacy Volunteer page if you are interested in helping local families improve their finances.
Categories: