Our Daily Bread and Naomi Project Celebrate New Relationship at January 22 Open House in Fairfax City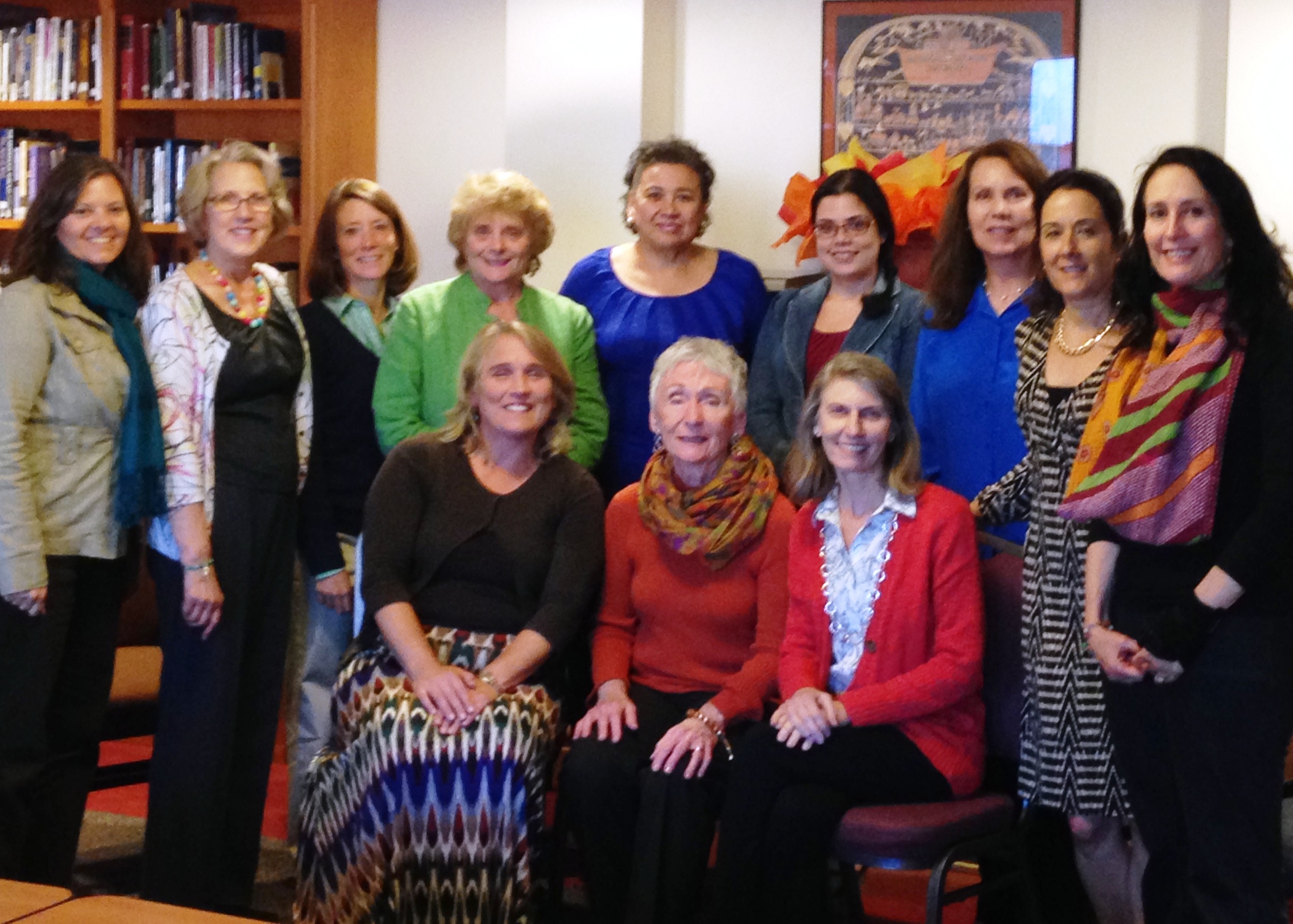 Our Daily Bread and Naomi Project leadership gathered on Oct. 4. Top, from left: ODB Executive Director Lisa Whetzel, NP Co-Directors Betty Ann Wilkins and Mary Rank, NP volunteers Peggy Cressy, Rosamaria Rosales, ODB NP Manager Jessica Ramones, NP Co-Director Darlene Griffith and NP volunteers Pat Collins and Monica Galloway. Front row, from left: NP former Co-Director Sarah Bock, NP Founder Peggy Ferguson and NP Training Coordinator Laura Greenspan. Photo Courtesy of Our Daily Bread
Contact: Lisa Whetzel, 703-273-8829
Note: Our Daily Bread changed its name to Britepaths on July 21, 2016
Fairfax, VA , January 9, 2015 – Local non-profits Our Daily Bread, Inc. (ODB) and The Naomi Project of Northern Virginia (Naomi Project) are pleased to announce that Naomi Project became a program of Our Daily Bread effective October 30, 2014.
The organizations invite volunteers and supporters to celebrate the new partnership at "We Are One," an open house reception, on January 22, 2015 from 4 p.m. to 6 p.m. in Our Daily Bread's office on the Fairfax County Judicial Complex at 4080 Chain Bridge Road, 2nd Floor, Fairfax, VA 22030. Attendees are encouraged to bring a donation that will benefit the clients of the Naomi Project, such as onesies, diapers or a book for a baby. 
The Naomi Project is a mentoring program that matches high-risk pregnant women and new mothers with trained volunteers committed to promoting healthy pregnancies and babies. In the continuum of pre/post-natal care in Northern Virginia, Naomi Project serves a niche population that might otherwise go unserved. Our Daily Bread provides emergency and seasonal assistance, along with financial education and mentoring services to working individuals and families who reside throughout the Fairfax County area. Both organizations are committed to the goal of empowering struggling neighbors to achieve and maintain self-sufficiency.
The blending of the two organizations was made possible by a grant from the Giving Circle of Hope, a Reston-based non-profit that works to create positive change in Northern Virginia through engaged and collective philanthropy. The grant allowed ODB to hire a Program Manager to work with the volunteers who run Naomi Project to ensure a smooth transition and on-going coordination among the two organizations. 
Our Daily Bread Executive Director Lisa Whetzel said, "Our Daily Bread is honored to introduce Naomi Project as one of our programs. The mission and values of our organizations mesh well, and we are excited to work with the volunteers and supporters of this amazing organization to help improve the outlook for more families in our community."
Peggy Ferguson, the Naomi Project founder, said that the Naomi Project executive committee "felt an immediate connection" when they met with ODB. Ferguson retired in September after 19 years of active leadership of the all-volunteer, highly regarded organization. She said she is leaving a group of committed volunteers who will run the program as previously structured. "It is with much pride and confidence in the future of the Naomi Project that I am stepping back," she said. "We are excited that, with the blessing of the Virginia Council of Churches, we will be joining this wonderful organization that endeavors to serve the same client population as the Naomi Project."
Naomi Project is currently seeking new volunteers to serve as mentors to its clients. An intensive training session will be held on Saturday, February 7, 2015 from 8:30 a.m. to 4 p.m. in the Rowland Conference Center at Kelly Square in Fairfax City, 10777 Main Street, 3rd Floor, Fairfax, VA 22030. Lunch will be provided. Attendees are asked to contribute $35 to help with the costs involved with holding the session. The session includes presentations by active mentors and public health nurses, plus segments on resources and developing the mentor-client relationship. Spanish speakers are especially needed. Pre-registration is strongly encouraged. A completed volunteer application is required. Visit Naomi Project Training for application and additional information. Contact Naomi.project.training@comcast.net or 703-860-2633.
###
Categories: