Note: Our Daily Bread changed its name to Britepaths on July 21, 2016
Thank you to everyone who supported our Stuff the Bus 2016 food drive at Shoppers at Fair City Mall on February 13. We raised $1,725 in cash and grocery gift cards and 371 pounds of food and supplies (valued at $600) to help our Fairfax County area neighbors in need! A special thank you to Volunteer Fairfax's Volunteers for Change for staffing the drive and helping us bring the donations back to ODB!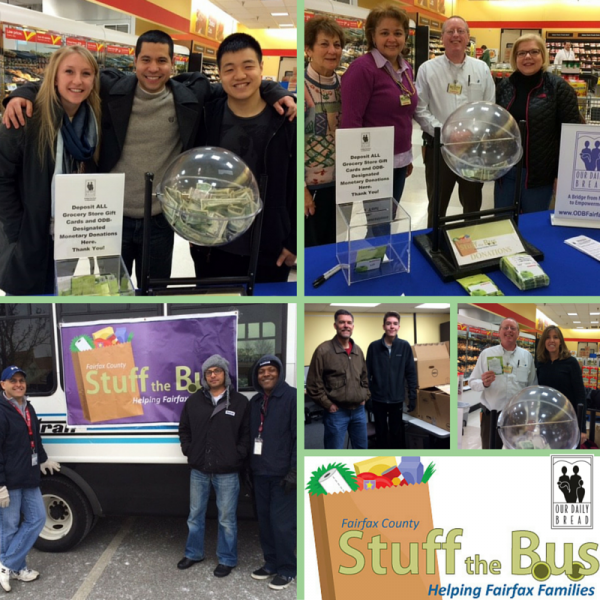 About Stuff the Bus 
During the fall and holiday season, Our Daily Bread's food pantry is overwhelmed with donations from the community. But by February, our supplies are often running low, even though the need for food is greater than ever.
Our Daily Bread is grateful to Fairfax County's Neighborhood and Community Services and Office of Public Private Partnerships (OP3) and MV Transportation, Inc. for creating the Stuff the Bus Food for Fairfaxfood drives to address this great need in our community and for inviting us to participate.
Our Greatest On-Going Need
Gift Cards in denominations of $10, $20 or more to help our clients buy fresh food. Donate at www.ODBFoodBridge.org to help us supply grocery cards to our clients in emergencies, or during weeks when we don't have a group available to deliver food or grocery cards.
Categories: