WATCH our #GivingTuesday interview on Fox 5 DC!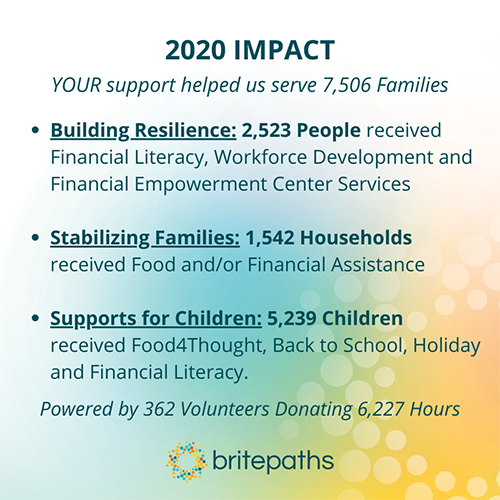 Learn More About Our Work: Virtual Town Hall on May 20, 4:30p
Britepaths: Empowering Our Struggling Neighbors to Long-Term Success  
For 37 years, Britepaths been providing help and hope to struggling Northern Virginia residents. Similar to a business, we provide a service to the community called social impact: the effect an organization's actions have on the wellbeing of the community. Britepaths serves more than 7,000 households in Fairfax County, which is approximately 11.5 percent of the households who live at or below 200 percent of the federal poverty level.
In 2019, Britepaths was honored to be named Non-Profit of the Year by the Northern Virginia Chamber of Commerce in recognition to our long service to the community. We tailor our services to meet the ever-changing needs of the working poor or those in crisis. Our unique programs equip individuals and families with the tools they need to not only face any crisis situation but also to begin a journey toward lasting independence.
Britepaths aims to address the unique needs of those living in poverty or experiencing crisis. Our Financial Literacy and Workforce Development supports at Britepaths and the Financial Empowerment Center at South County help our neighbors Build Resilience, providing tools to help them better manage their money or pursue better-paying jobs. Our Stability programs – Food Bridge and Financial Assistance – help families stay in their homes while they work through a crisis. Through community partnerships, we also offer Supports for Children, including Food4Thought weekend food packs, Back to School and Holiday assistance and Youth Financial Literacy. Learn More
Britepaths began in 1984 as a homeless shelter that rotated among several local congregations – many of which still support our work. When Fairfax County opened a shelter, we started a soup kitchen for the homeless. In 1986, we were named "Our Daily Bread," and in 1989 we became an independent non-profit. We rebranded as Britepaths in 2016 to better reflect our evolving mission. As the cost of housing in Fairfax County rose sharply through the 1990s and 2000s, we shifted our focus to helping the working poor who had a place to live but were struggling to pay for all their necessities. In response, we offered emergency food, financial assistance and seasonal assistance, and eventually launched a Financial Literacy program.

Today, the families we assist are likely to be members of the working poor – often juggling multiple jobs – the elderly and disabled, or those who were financially secure but have found themselves in crisis due to job loss, debt or health issues. More than half of those we serve are children. The success of our programs can be measured by the thousands of Fairfax County residents who achieve their financial goals, avoid housing or job loss and take the tools they received to become self-sufficient.

We are able to provide these services because of donations and volunteer support of thousands of caring community members each year. We welcome everyone to get involved through donating, volunteering and supporting our events.
Britepaths Values Statement
At Britepaths…
We seek to learn the unique circumstances of each client, and craft solutions with the whole person in mind.
As we guide others towards self-sufficiency, we accept that teaching others means nurturing self-awareness in ourselves.
We embrace our differences and see them as a source of strength.
We commit to individual and organizational efforts to nurture respect, compassion, dignity, equity, and self-esteem for each member of our community – inclusive of staff, clients, and supporters.
We love our neighbors regardless of race, gender, age, sexuality, ability, religion, national origin, and gender identity.
We champion individual efforts, build community engagement, and challenge institutional constraints that deny any person the right to live and thrive.
We know that we are at our best when we see ourselves in each other.
Connect With Us: Follow us on Facebook, Twitter, LinkedIn or Instagram, or subscribe to our Email list.
---