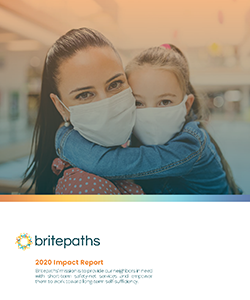 Britepaths is pleased to share our 2020 Annual Impact Report
Few could have foreseen the challenges our community and the world at large would face beginning in March 2020. For Britepaths, the big story of last year was how deeply our community cared and how quickly they moved to help when the scope of the crisis became clear. We received overwhelming support from individuals, faith communities, businesses, organizations, and the community at large.
Britepaths served 7,506 households in 2020. To accomplish this, our staff harnessed resources provided by our supporters and the energy of 362 volunteers working 6,227 hours to achieve the following results:
Served 2,523 people with Financial Literacy and Workforce Development Services
Served 1,542 families with Food Bridge and Financial Assistance Supports
Served 5,239 children with Food4Thought weekend food packs, Back to School supplies, Holiday gifts and Financial Literacy
To request a printed copy of our 2020 Impact Report, phone 703.273.8829 or email info@britepaths.org.
Click Here to see Britepaths' Financials