A Partnership to Fight Child Hunger in the Fairfax County Area
Our Food4Thought program works with volunteers and staff at our Partner Schools, which are participating Fairfax County Public Schools, to provide healthy meals, drinks and snacks over the weekend to children who receive free or reduced-price meals during school days. For many of these children, school meals might be the only ones they receive.
How Food4Thought Works
Britepaths partners with the social workers, staff and volunteers at Partner FCPS schools to help them feed students in their schools who have been identified as having need for food assistance. At elementary schools, this often involves sending home weekend food packs. Our middle and high school partners may have pantries or closets for students who need it to quietly select food. Volunteers and staff at the schools are collecting donations of appropriate foods and distributing them to children who have been identified as having the greatest need. Britepaths provides technical support to the schools, passes on financial donations (minus a minimal administrative fee) and helps community members donate food or packs directly to schools.
Britepaths is proud to be an Ignite Partner with Fairfax County Public Schools. Through a shared grant from Fairfax County, Britepaths partners with Food for Others to assist as many students in need as possible across FCPS with weekend food support. Food for Others largely receives and distributes packs to Title 1 schools, while Britepaths works with partner schools to help them generate packs from supporters in their own community.
We are grateful to our grantors The Closet of Greater Herndon, Inc., No Child Goes Hungry and the Welcome Club of Northern Virginia for providing generous funding to assist our partner schools. And to Rustic Love Vienna and Unitarian Universalist Congregation of Fairfax for supporting Mosaic ES, Helen G. Gifford Foundation for supporting Marshall Road ES, and Christian Science Church in Fairfax for supporting Daniels Run ES.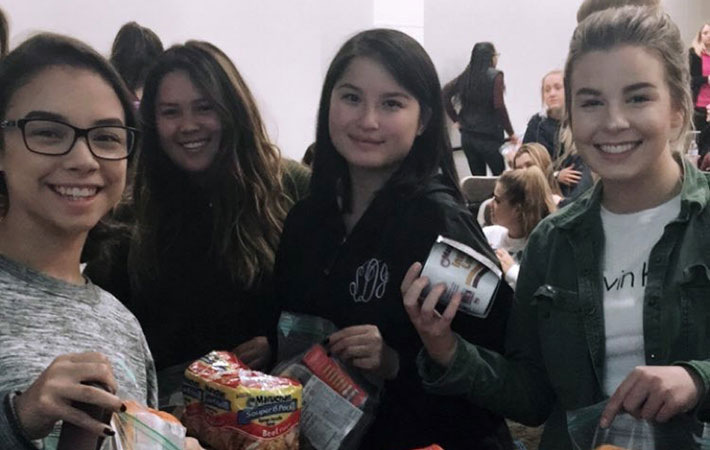 Learn More and Get Involved!
Checks welcome! Mail to Britepaths at 3959 Pender Dr., Ste. 200, Fairfax, VA 22030. Write Food4Thought and designated school (if any) in memo line.