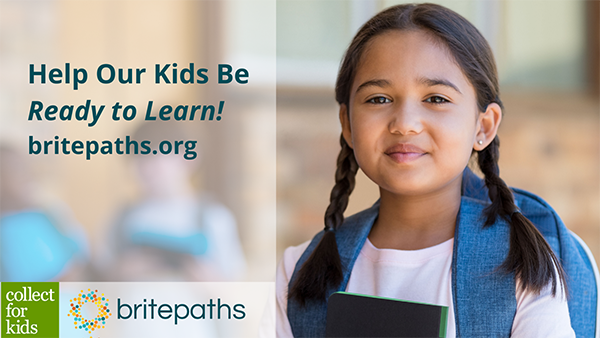 This Year, The Need Is Greater Than Ever!
There is no doubt that the pandemic has been hard on families, and the proof can be seen in our Collect for Kids Back to School Program. Typically we purchase school supplies for 2,500 local students. But this spring when we asked the social workers and counselors at our FCPS Partner Schools to tell us us how many kids needed assistance, they requested help for more than 4,000! Because we know our community is so generous, we decided to rise to the challenge and commit to helping all the students who need it. 
Will YOU Help Us Meet the Challenge? We need to raise $40,000 by August to provide all the needed supply kits to our Partner Schools in the Fairfax High School and Justice High School pyramids (see list of schools below) so they can distribute them to students with identified need.
Or mail a check: Britepaths, 3959 Pender Dr., Ste. 200, Fairfax, VA 22030. Please write "Back to School" in the memo line.
Sponsorships Available!
Contact: Dorothy Altmiller at daltmiller@britepaths.org or 703.273.8829
Thank You to Our Sponsors!

Special Promo: Round-up for Britepaths at Twins Ace Hardware in Fairfax City throughout July to benefit our Back to School program.Click Here for Details
---
About Our Program
Each year, thousands of Fairfax County students face various challenges that no child in our country should have to face. Food insecurity, lack of resources for school supplies, and limited access to appropriate school clothing are some of the very real issues that distract students from meeting their highest academic potential. During the pandemic, families and children in our area who struggle under normal times need our help more than ever. 
As we have done for many years, Britepaths is participating in the Collect for Kids partnership, which includes Fairfax County Public Schools, the Fairfax County Office of Public and Private Partnerships, and numerous community-based organizations and businesses in the Fairfax County area who are working together to provide supplies in a more cost-effective and efficient way. 
Your generous donations will help us purchase supply kits that can be easily distributed to the students who need them. Through our partnership with Campus Survival Kits, we can purchase kits with all the supplies a student will need for approximately $10 per kit!
Normally, we seek to assist 2,500 students, but when we surveyed the social workers at our partner schools (listed below), they identified more than 4,000 students in need, and because we know our community is so generous, we decided to rise to the challenge and commit to helping all the students who need it. We hope you will help us assist ALL our kids!
Britepaths is so grateful to our community for helping students in need be Ready to Learn!
---
Your Support for School Supplies Helped Students At These FCPS Partner Schools:
Fairfax High School Pyramid
Daniels Run ES
Eagle View ES
Fairfax HS
Lanier MS
Providence ES
Willow Springs ES
Justice High School Pyramid
Bailey's ES
Bailey's Upper ES
Beech Tree ES
Belvedere ES
Glasgow MS
Justice ES
Parklawn ES
Sleepy Hollow ES
Other