Fairfax Teen Artist Donates Proceeds from Art Sales to Our Daily Veggies
Ben Breaux said, "I chose to donate to the Our Daily Veggies Program because, when possible, I think it is important to focus on eating organic food and food directly from farms."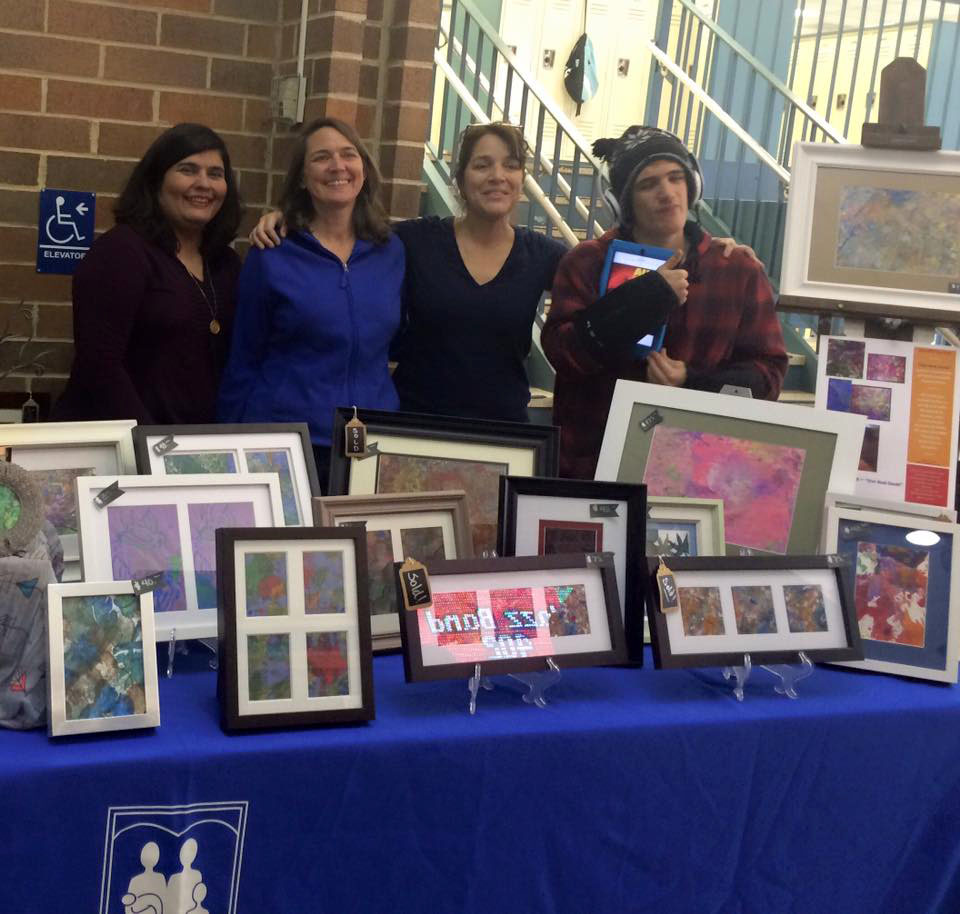 Note: Our Daily Bread changed its name to Britepaths on July 21, 2016
Our Daily Bread is grateful to young artist Benjamin Breaux, who donated half of the sales of his art and wares at The Robinson Marketplace on November 14, 2015 to Our Daily Bread. The funds were originally intended for ODB's Holiday Program, but Ben had some health issues not long after the Marketplace, and it took a while for the family to make the donation. Due to the delay, he has asked that the donation of $612 instead go to ODB's Our Daily Veggies Program, which provides vouchers to ODB's Food Bridge Program clients to purchase fresh fruit and vegetables from local Farmers Market stands. An additional donation of a $25 grocery gift card will provide emergency assistance to a Food Bridge client in need.
Ben's art work that was displayed at ODB's May 2014 Artful Living event was voted by attendees to receive the "People's Choice Award." This was the first time he entered his work in an art show, and it inspired him and his family to create a business called BenARTfactor – "Give Back Goods." Ben, who is 15 and lives in Fairfax, has nonspeaking autism, and has found art to be an important tool for expressing himself. Recently, he was awarded 1st Place/"Outstanding Interpretation" for Fairfax County Public Schools and Northern Virginia for his entry in PTA "Reflections" Fine Arts program in High School "Special Artists" category, and his entry will next compete at the State level.
BEN "Speaks" His Mind: Though Ben is not physically able to speak or write at this time, he is able to convey his thoughts using Rapid Prompt Method (RPM) therapy, which allows him to point to each individual letter of the words he wishes to communicate. When he gave his donation to an ODB representive on March 18, his mother, Sara Breaux, assisted him in using RPM to explain why he chose to donate the funds to Our Daily Veggies. As is the custom with providing RPM transcription, his answer is given in all caps.
Ben said, "I CHOSE TO DONATE TO THE 'OUR DAILY VEGGIES' PROGRAM BECAUSE, WHEN POSSIBLE, I THINK IT IS IMPORTANT TO FOCUS ON EATING ORGANIC FOOD AND FOOD DIRECTLY FROM FARMS. PLEASE TELL PEOPLE TO EAT SENSIBLY AND WISELY. DO NOT SEND ME THANKS, INSTEAD EAT WELL AND HAVE MANY GREAT MEALS TOGETHER WHEN YOU CAN."
Artful Living 2016: We are grateful to Ben and his family for their support for our families! One of Ben's pieces was displayed and sold at our 2nd annual Artful Living show on April 23 in Fairfax City. READ the Burke Connection article about Ben and Artful Living.
"Voices Unlocked": Ben is part of an artistic family! His story and the stories of other youth with non-verbal autism are featured in a short film created and directed by his younger brother, a Robinson student whose professional name is Johnathan Newport, which was screened at the Boston International Kids Film Festival and the Somewhat North of Boston Film Festival and the Providence International Children's Film Festival.
"Beyond the Label: Moving Away from Autism Assumptions": Ben is also featured in a short film by therapist and friend Jessie Bond. The film was screened at the Maryland International Film Festival in Hagerstown on April 2.
Ben's family invites you to connect with him and learn more by following his Facebook page: Ben B. – "My Own Words: Reflections of a Non-Speaking Autistic