"Life Happens! And as long as you reach out for the resources you need, and have positive people in your corner, you can get to where you need to go in a set timeframe." – Kesha, BritepathsProject BRIDGE Program Graduate
"I'm honored to have been a part of her journey!" – Evangeline, Britepaths Volunteer Financial Mentor
[video:https://www.youtube.com/watch?v=5HFw5rlHs_0&feature=youtu.be]
Kesha moved with her children from Memphis, TN to Fairfax County to seek better employment opportunities. She quickly found a job in Human Resources, but struggled to make ends meet in this expensive area with little assistance to support her chilren. Her intelligence, determination and motivation made her ideal for Project BRIDGE, the year-long holistic support program designed to promote progress in five areas: Financial Management; Employment/Career Management; Education and Training; Family Stability, Housing and Dependents; and Health and Social Supports. While working full-time in HR and being a loving mother to a daughter and son, Kesha has also continued her education. She received her BS in Business Administration with a concentration in Human Resource Management in June 2015. This is no easy feat for anyone, and is especially challenging as a single parent on a very tight budget.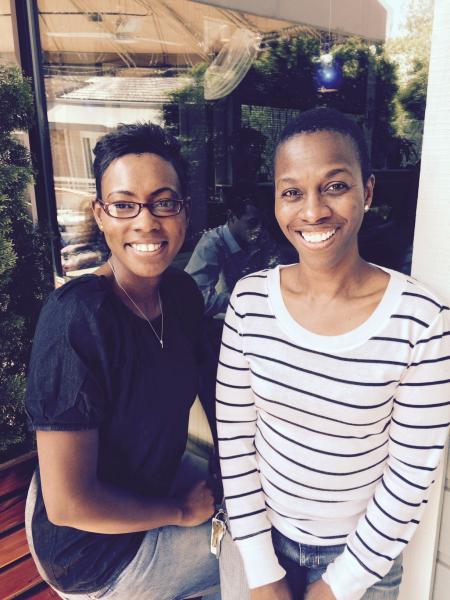 During the year, Kesha, guided by her mentor Evangeline (right), worked to pay down debts and build up an emergency fund. She has also been an advocate for Britepaths, testifying in April 2015 before the Fairfax County Board of Supervisors on the importance of continuing to provide strong support for social services in the County's FY2016 Budget. Kesha is seeking more stable employment in HR. She's a successful graduate of Project BRIDGE and now has the skills and knowledge to guide her future financial decisions.
Evangeline has volunteered with Our Daily Bread's Financial Literacy Program for the past year-and-a-half. In addition to serving as Kesha's financial mentor, coach and friend, she has served as a budget class instructor and participates in ODB's Financial Mentor Roundtables to exchange information, ideas and resources with other Financial Literacy volunteers.
Fairfax County Board of Supervisors Testimony
On April 8, 2015, Kesha testified before the Fairfax County Board of Supervisors during its FY2016 Budget Hearing process to support Britepaths' request for strong continued funding for Human Services Programs in the County. During her remarks, Kesha said, "Now the interview calls are rolling in — an uplifting sign — and I'll complete my degree program in June. This would not have happened without Britepaths."