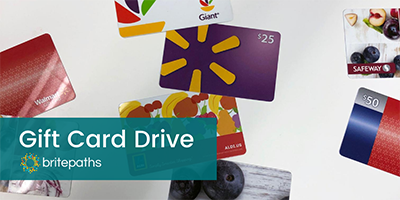 Due to COVID-19, Britepaths' office is closed to the public and we have closed our food pantry. We are mailing grocery store gift cards to our Food Bridge families and all clients who are referred to us for food assistance.
Can YOU Help Feed Families In Need?
We have a great ongoing need for donations of gift cards to major local grocery stores in denominations of $25. Suggested stores include Giant Food, Safeway and Aldi. Since we're mailing out gift cards, it is most helpful to have higher denominations if possible (eg. $50, $100), but any size gift will help. Cash donations are also greatly appreciated to help us purchase gift cards with the bulk discounts we receive.
Individuals or community members can help our families safely by asking friends, neighbors and group members to donate gift cards. When the project leader has collected all donations, the project leader should arrange in advance to bring them to Britepaths, and a staff member will meet the project leader outside our building to collect the donations.
Instructions:
Put out the word via email or social media to your family, friends, neighbors, group members, etc. that you're collecting grocery store gift cards in $25 denominations to help Britepaths' families.
If you tag us on social media, we'll share! @britepaths on Facebook, Twitter and LinkedIn, @britepathsfx on Instagram.
When you've collected the gift cards, use the contact information below to arrange the delivery. We'll meet you at your car/in our building parking lot at the agreed-upon time.
Our office hours are typically Monday-Friday from 10a-2p, but this can vary sometimes. We cannot promise to be available to receive your donation if we don't know in advance that it's coming.
Contact Information
Britepaths
3959 Pender Drive, Suite 200
Fairfax, VA 22030
Contact: Dorothy Altmiller
Phone: 703.273.8829
Email: daltmiller@britepaths.org
Funds Are Also Greatly Welcome to Purchase Gift Cards
donate
Other Ways to Donate: 
Mail a check to Britepaths at our address above; write "Food" in the memo line.
Donate/Fundraise via your Facebook or Instagram: Donate via our Facebook or Instagram profiles, run a Facebook Fundraiser, or include our Donate feature in a Facebook post or Instagram story. Contact hwebb@britepaths.org with questions.