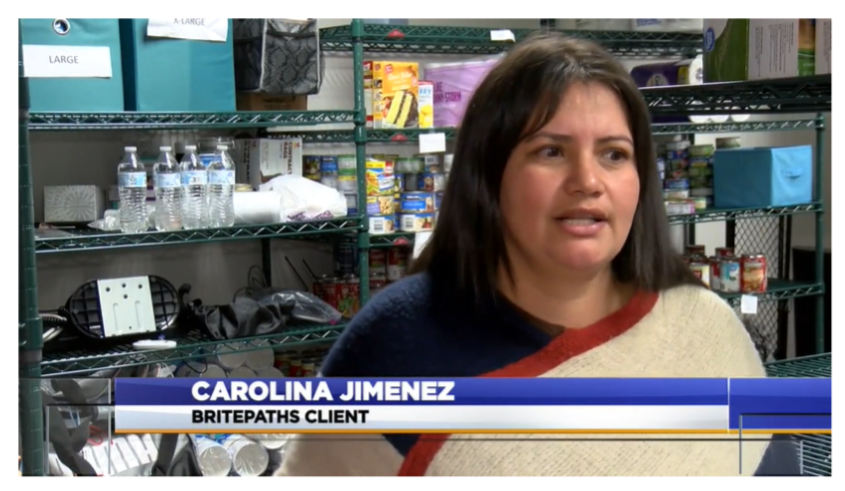 Carolina can't work because of the coronavirus shutdown, and she's not sure if she'll be paid.
WATCH the WDVM-TV Interview; READ the Connection Article
donate
Adjust. Give.
Our families need our help more than ever.  As an organization, we need to increase our capacity to help families in crisis put food on the table and keep a roof over their heads. Especially now, help us be ready to meet the growing need of families experiencing layoffs and decreased work hours. 
We are on a mission to raise $100,000 by April 15th. 
How can you help? Here are two ways:
1.       Adjust.
Britepaths is an organization that exists to support families. We are a community because we are also supported by families. We care about our clients, and we care about you. The first order of business is to keep yourself and your loved ones safe. Life will look different for all of us for some time to come. Know that we understand this, are adjusting with you, and wish you well.
2.       Give.
Typically, Britepaths provides assistance as needed. In this moment, everyone we serve is in need. Cash donations give us the greatest flexibility to triage. Funds will help us purchase food gift cards for families, secure and provide needed household supplies, or offer targeted financial assistance for rent and utilities.
Your donations will help our local families in need, no matter what additional crises may arise as a result of the pandemic.
Give what you can. And please, give now.
Please note that we are not accepting pantry/in-person donations until further notice for the safety of our clients, staff and supporters. 
What More Can I Do?
Many people who have generously donated have also asked what more they can do to help. We still have a long way to go before we reach our goal, and we're inviting you to partner with us to help spread the word. We also want to encourage people to stay connected to each other, at a moment in time when staying connected really counts. Please Click Here to learn more.
---
Thank You to Our Major Supporters!
Anthem Healthkeepers Plus · Apple Federal Credit Union · Edelman Financial Engines · Hamilton, Petrocelli, Sprissler & Sands 
Ken and Linda Kozloff · No Child Goes Hungry · Northwest Federal Credit Union · Printing Ideas · Kim and Peter Scudera 
Starfish Foundation of Fairfax · Sullivan Bruyette Speros & Blayney · United Bank · Adam and Yhomara Warshavsky
Womenade Fairfax ​​​​· Generous supporters of our Stock the Pantry campaign
Checks Are Welcome!
Mail checks to Britepaths at 3959 Pender Drive, Suite 200, Fairfax, VA 22030
Questions or Concerns?
Contact Shannon Bryant at sbryant@britepaths.org or 703.273.8829