Be a Bright Futures Partner
As a Bright Futures Partner, you're part of a special community of monthly donors who are committed to empowering struggling families to become self-sufficient.
The struggles we saw in 2020 surprised and tested us all. But it was the tremendous response from the Britepaths community of donors that really moved us and made a difference for our families.
Though we can start to see light at the end of the tunnel, we know the struggle will continue for some time for many of our clients. We'll need a strong and sustained effort to keep families moving forward – from survival to self-sufficiency – through this year, and beyond. We stand ready to help each of our clients discover their own unique path, and we're inviting you to join us in that effort by deepening your support today.
We hope you will consider making your contributions to Britepaths a monthly endeavor. By choosing to support our work in this way, you increase our capacity to both respond to needs as they arise, and plan for support in advance.
Questions? Contact Lisa Whetzel at 703.273.8829 or contact us online.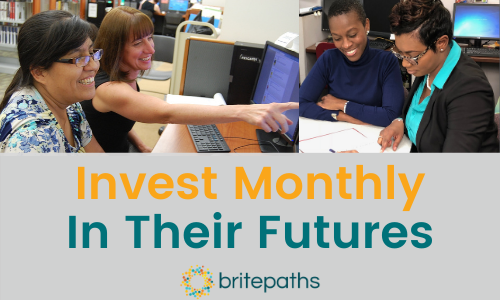 "Without organizations like Britepaths, people like myself would just be hopeless." - Eva
Watch Eva's Story and see how your support Lifts Up Our Neighbors to Thrive.