Be a Bright Futures Partner
As a Bright Futures Partner, you're part of a special community of monthly donors who are committed to empowering our families to become self-sufficient.
While life is getting back to normal for many of us, the families we serve continue to feel financial impacts from the pandemic. We need a strong and sustained effort to keep families moving forward – from survival to self-sufficiency – through this year, and beyond. We stand ready to help each of our clients discover their own unique path, and we're inviting you to join us in that effort by deepening your support today.
We hope you will consider making your contributions to Britepaths a monthly endeavor. By choosing to support our work in this way, you increase our capacity to both respond to needs as they arise, and plan for support in advance.
Questions? Contact Abra Kurt at 703.273.8829 or contact us online.
To opt for a monthly or other recurring donation on our Donate form:
Select or fill in the amount you would like to donate.
Check the box below your donation amount that reads "I want to contribute this amount every"
Type the appropriate number in the data box provided and choose the frequency of the donation using the drop-down box.
For example, to set up a monthly donation, type "1" in the data box, and choose "month(s)" from the drop-down box.
Complete the donation form and submit.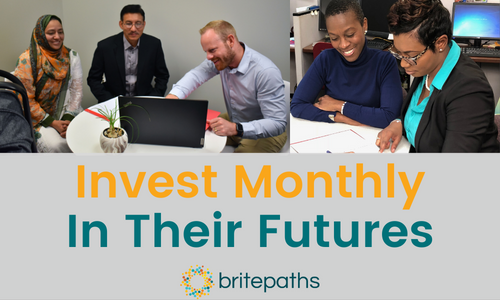 "I finally get to focus on work that I love and am passionate about." - Mo
Mo is working in his desired field after receiving certification and supports through our Avenues to Career Training-IT program.