Avenues to Career Training
Avenues to Career Training (ACT) offers critical information and foundational skills for Northern Virginia residents to pursue better-paying jobs and build careers in fields where there is a great need for skilled workers. Britepaths and the Financial Empowerment Center at South County (FECSoCo) offer two Information Technology training courses and a healthcare pre-employment program throughout the year. Trainings are offered virtually until further notice.
ACT-IT
Avenues to Career Training-IT offers free, full-time, skills development courses to help unemployed and underemployed individuals in Northern Virginia who might not otherwise have access to technical education develop the skills they need to pursue entry-level IT positions. Britepaths and FECSoCo help learners gain job-specific skills, connect with employers, and embark on IT careers.
AWS re/Start: We are collaborating with AWS re/Start to offer a 14-week tuition-free training for the AWS Certified Cloud Practitioner Certification. The program will be offered virtually until further notice, with live instruction Monday-Friday, 9am-3pm. 2022 sessions are March 14-June 17 and September 12-December 16. Information sessions Feb. 15, 16 or 17, 10-11a. Click Here for information and an interest form.
Google IT: Enroll in our 12-week Google IT Professional Certification program and earn both the Google IT Professional Certification and CompTIA A+. Meets Monday-Friday, 9am-3pm. 2022 sessions are February 14-May 6 and September 19-December 9. Click Here for more information.
ACT-Healthcare
Avenues to Career Training-Healthcare began in 2018 as a partnership between Britepaths/FECSoCo and Fairfax County's Department of Housing and Community Development, and is funded through a grant from the Fairfax County Consolidated Community Funding Pool. Sessions are offered periodically throughout the year for free to qualified participants.
The next cohort is April 11-June 3, 2022, Mon.-Fri., 10a-12p. Virtual info sessions Mar. 9, 16 or 23 at 10a. Click Here for flyer
ACT-Healthcare is a pre-employment program that better prepares participants for entry-level certification programs through contextualized healthcare learning and job readiness skills. Learners also have sessions each week in Financial Literacy with volunteers from FECSoCo and in computer skills training with our partners from Computer C.O.R.E., and other enrichment opportunities.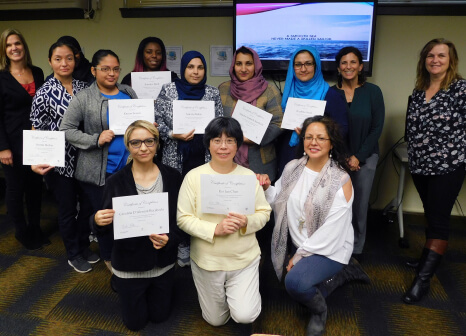 Attention Northern Virginia/DMV IT Professionals! We're seeking to connect our graduates with paid internships, apprenticeships or entry-level jobs.
Click Here to learn more.