Offering a Brighter Path to Better-Paying Jobs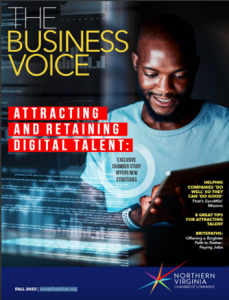 The Northern Virginia Chamber of Commerce's Fall 2022 issue of "The Business Voice" magazine focuses on attracting and retaining digital talent. Britepaths and the Financial Empowerment Center at South County's Avenues to Career Training IT Certification courses are featured in the issue.
Read the Article, "Offering a Brighter Path to Better-Paying Jobs," on pages 21-22.
In 2021, Britepaths and FECSoCo launched our AWS re/Start training course in collaboration with Amazon Web Services, along with our Google IT Support Professional and CompTIA++ training course, to offer Northern Virginia residents the opportunity to qualify for better-paying jobs in high-demand fields.
We appreciate the NOVA Chamber for highlighting our work, and for its efforts to tackle this challenge from the employer side, while we work to prepare candidates for those openings. Britepaths is seeking to build relationships with local IT companies that might be interested in hiring our graduates. Contact Shannon Bryant at sbryant@britepaths.org or 703.273.8829. Learn more on our Avenues to Career Training page.
The Business Voice is produced through a partnership between InsideNoVa.com and the Northern Virginia Chamber of Commerce.