Closet Grant Supports Weekend Food for Kids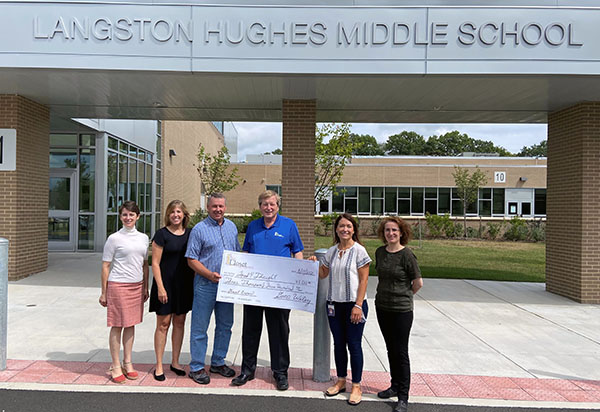 Britepaths is grateful to The Closet of the Greater Herndon Area, Inc. for providing a $3,500 grant our Food4Thought program. In total they donated $45,000 to 10 local organizations for the second quarter of 2021. This is their third year of supporting this program, which offers funding, food donations and technical assistance to partner schools in the Fairfax County Public Schools system so the schools can provide weekend or supplemental food to students in need. Britepaths will use the grant funds to help schools purchase food, gift cards or other necessities to assist their students. The Closet has also invited us to refer families we serve to receive vouchers to shop for clothes at the store.
On August 17, The Closet's President, Gene Wiley, visited Food4Thought partner Langston Hughes Middle School in Reston to present the grant award to Britepaths staff. He met with Principal Aimee Monticchio and Counselor Mark Blocker, who oversees the program at the school. Mark said he is excited to be receiving some of these funds to get their program back up and running this year. They typically provide food, fresh fruit and grocery store gift cards to students with identified need.
In 2020, Food4Thought assisted 1,309 students in our 21 FCPS partner schools:
Alexandria: Fort Hunt ES, Hollin Meadows ES, Montrose ALC, Mount Vernon HS and Woodley Hills ES
Centreville: Bull Run ES and Cub Run ES
Fairfax City/Central Fairfax: Daniels Run ES, Fairfax HS, Frost MS, Katherine Johnson MS, Little Run ES, Mosaic ES and Providence ES
Falls Church: Falls Church HS and Westlawn ES
Herndon/Reston: Hunters Woods ES and Langston Hughes MS
Vienna: Cedar Lane School, Kilmer MS, Marshall Road ES
Community members interested in supporting our schools may donate funds via our secure online donation page (Click Here), donate food to schools (Click Here for details, including Amazon Wish Lists), or create Food4Thought packs as a service project to donate to schools (Click Here for details).
Britepaths celebrated the Food4Thought Program's 10th year in 2021. We are proud to be an Ignite Partner with Fairfax County Public Schools. Through a shared grant from Fairfax County, Britepaths partners with Food for Others to assist as many students in need as possible across FCPS with weekend food support. Food for Others largely receives and distributes packs to Title 1 schools, while Britepaths works with partner schools to help them generate packs from supporters in their own community. At some schools we partner with other organizations that provide support, including A Place to Stand in Fairfax City schools, Food for Neighbors at Falls Church HS and Blessings in a Backpack at Mosaic ES in Fairfax.