We are so grateful to everyone who has been donating since we reopened our Food Pantry in July. We have some urgent needs listed below.
Please Donate and Please Share!
Britepaths is located at 3959 Pender Dr., #200, Fairfax, VA 22030
We are typically able to accept donations Mon.-Fri., 10a-2p, but we ask that you contact us ahead of time to arrange drop-off. 703.273.8829 or info@britepaths.org.
We also have a *great need* for reusable grocery bags to distribute food.
Thank You!
Most-Needed Items: URGENT NEEDS
Food 
Cereal (healthy types with less sugar, please!)
Cooking oil
Jam/jelly
Pancake mix/syrup
Rice
Snacks -- healthy foods such as crackers, pretzels, popcorn and granola/cereal bars
NOTE: We cannot use items that have been opened, cans that are dented or ANY food that is past its expiration date.
Household/Hygiene Items
Toilet paper
Laundry detergent (liquid or pods)
All-purpose cleaners/Windex/toilet bowl cleaner/Clorox wipes
Sponges/cleaning supplies
Shampoo/Conditioner
Body wash/bar soap
Deodorant
---
Old Lee Hills/Hugo the Gargoyle Little Free Library Food Drive
Our friends in the Old Lee Hills neighborhood of Fairfax City collected food for our pantry at "Hugo the Gargoyle's" Little Free Library throughout July. They donated a total of 713 pounds, 606 items and $350 in grocery store gift cards. So grateful to the Jaworski and McCarthy families for spearheading this effort and matching donations, the Old Town Fairfax Business Association for sponsoring, and to the many donors who supported this effort.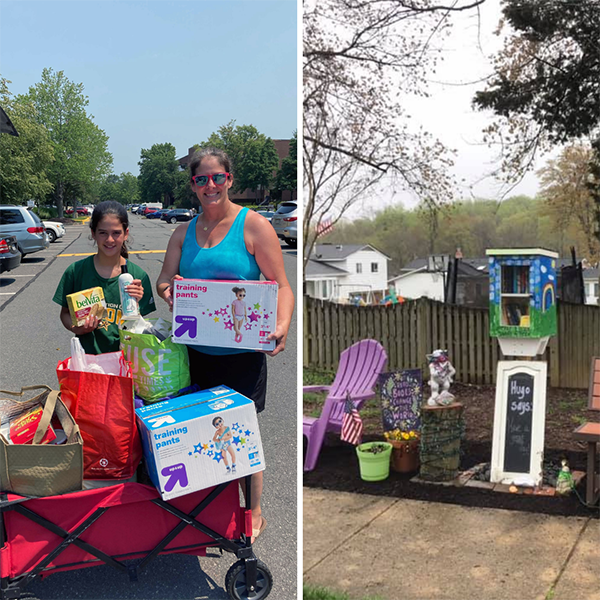 Categories: