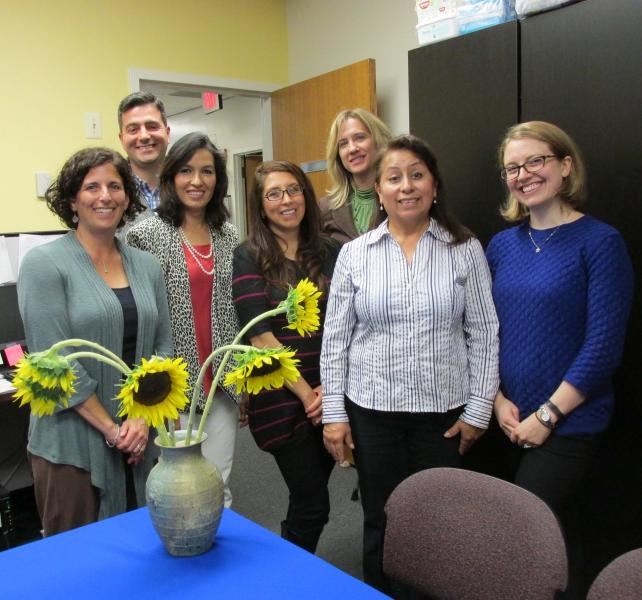 Our Daily Bread's newest Project BRIDGE graduates, Reina, Liz and Sonia celebrated in November. In the photo (l-r) are: Project BRIDGE Program Manager Sally Meyer, Reina's Mentor Lucas, Reina, Liz, Financial Literacy Programs Manager Marcelle Miles, Sonia, and Sonia's Mentor Carol.
Note: Our Daily Bread became Britepaths in July 2016. The Project BRIDGE Program is now an element of our Workforce Development Program
Everyone at Our Daily Bread is so proud of our newest Project BRIDGE Program graduates, Sonia, Liz and Reina! With their graduation, we have six graduates this year, and nine total so far for the Program. These local moms worked extremely hard with their mentors, regularly attending meetings and doing their homework. Each learned how to reduce debt and actively save, while gaining a better understanding of her finances and ways to improve her financial outlook now and for the future. ODB staff and their mentors celebrated with them on November 18.
Sonia, originally from El Salvador, not only worked on reducing credit card payments, but also created a business plan for her budding bakery business—quesadillas from El Salvador. With the guidance of her mentor, Carol, Sonia researched and determined which bank would be best for her personally as well as for her business. Using the workforce development stipend she earned by reaching her agreed-upon Program goals, Sonia took an accounting class in order to be more comfortable handling the finances of her woman-owned business.
Reina, originally from Bolivia, has raised two bright and successful children on her own. Last year, Reina realized it was time to focus on herself. Working with her mentor, Lucas, she learned how to reduce credit card debt, and medical expenses. Lucas helped her create an Excel spreadsheet to track her action items and progress, which turned out to be a great visual tool for her. Not only could she see monthly how her debt was being reduced, but she could see what a better place she'd be in financially in the very near future. She developed confidence, improved her computer skills using the workforce development stipend she earned by meeting Program goals, and continues to improve her English by taking classes at Northern Virginia Community College.
Liz is from Peru and moved to the area about 13 years ago with her family. Her husband suffers from a chronic illness, which has made Liz the primary income earner. She came to ODB wanting to understand her finances better and reduce debt. She learned, under the guidance of her mentor, how to call creditors to ask that her payments be reduced. Liz was successful in her efforts to amend the payment amounts in three of her accounts, greatly reducing her monthly financial burden. Liz is very focused on her next steps to improve her career advancement. Recognizing that improved verbal and written communications would enhance her chances, she has already taken freshman English. She plans to use the stipend she earned by meeting Program goals toward either more English or computer training at Northern Virginia Community College.
Categories: