When Rashida first came to Britepaths, she had experienced a number of setbacks, including homelessness. In just under two years -- with guidance from our staff and volunteers and a lot of hard work -- Rashida has reduced her debt, found stable housing, maintained employment, enrolled in school for Occupational Therapy, and is giving her all to maintain some semblance of hope for her two children through a very difficult year. It's a lot, and she is their sole source of support, but she's handling it well, and we are so proud of her. 
Our community's support has meant that Rashida's family, and many others, can stay in their homes and continue their inspiring paths to self-sufficiency despite the pandemic -- a crisis that has affected each of us…some more than others. 
A very generous donor has presented Britepaths with a $25,000 challenge gift in the final week of our eviction prevention campaign, There's No Place Like Home! If we can match that amount by THIS Saturday, October 31, we will reach our goal!
Please give today to help families near you like Rashida's, and share our message with others.
donate
Checks Welcome! Mail to Britepaths at 3959 Pender Drive, Suite 200, Fairfax, VA 22030
Questions? Contact: Shannon Bryant at sbryant@britepaths.org or 703.273.8829
---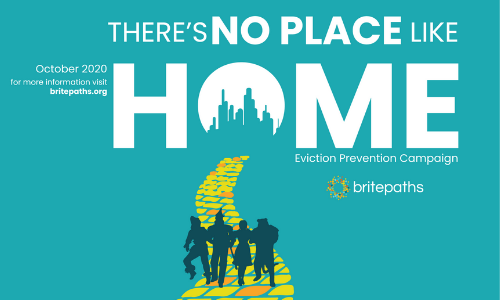 Throughout October, Britepaths is hosting There's No Place Like Home: An Eviction Prevention Campaign. Our goal is to raise awareness that thousands of our neighbors are at risk of eviction during the ongoing coronavirus pandemic. We are working to raise at least $150,000 to support our ability to provide rent assistance to struggling families.
In the News: Fairfax Connection; Fairfax City Patch
---
Facing Eviction Is Scary, But Helping Prevent It Can Be Fun!
Join Us at Unity of Fairfax's Halloween Virtual 5K/1K Run-Walk-Roll
Saturday, Oct. 31 at 10 am 
Click Here for Details and Registration; Join the Facebook Group
A portion of the proceeds will benefit Britepaths' There's No Place Like Home Eviction Prevention Campaign

Share Your Fun Halloween Pics With Us and Help Spread The Word
October means falling leaves and Halloween, and because we could all use a little light-heartedness, we invite you to help spread the word about our Home campaign by posting photos celebrating the season. We're hoping to see plenty of "ghosts" from Halloweens past and present! Dig up your fun, family-friendly photos of family members and pets in costumes, spooky jack-o-lanterns, and festive house decorations in your neighborhood.

How to Help:
* Share photos with your friends and family in your social media, ask them to support our There's No Place Like Home Campaign to help local families in need fight eviction, and Tag us #BritepathsHome.
* Follow us and view photos on Instagram at @britepaths_home to see the submissions.
* You may also send us photos by tagging us @britepaths on Facebook, Twitter or LinkedIn, or email to hwebb@britepaths.org.
Marcelle's groovy family on a past Halloween. We hope you'll share YOUR fun photos with us too!