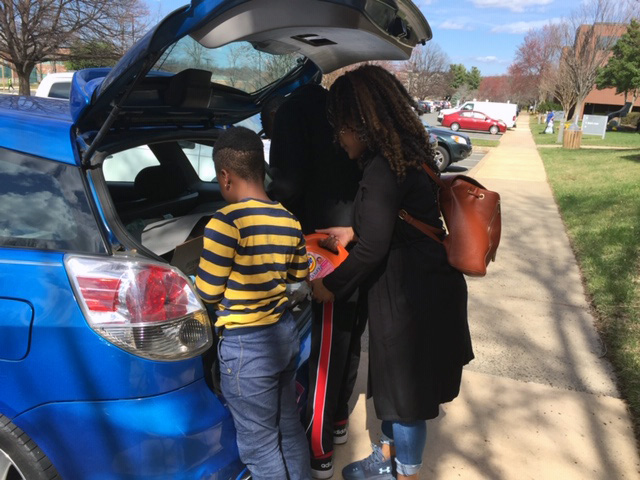 Britepaths' Food Assistance Programs provide emergency and short-term food assistance to Fairfax County area residents who are struggling to make ends meet – helping them bridge the gap until they can recover from a crisis.
Note, Dec. 2021: Our pantry is low on several food and supplies! Click Here for details. Note that our office will be closed Dec. 24-31, and we will not be accepting donations. 
Fairfax County Residents in need of Food assistance should contact Coordinated Services Planning at 703.222.0880. Outside of the Fairfax County social services area, dial 2-1-1 for information.
Help Our Neighbors:
If you or your organization can support our Food Bridge Program, contact Mila Cobos at mcobos@britepaths.org or 703.273.8829.
Thank You to Our Grantors!
Britepaths' Food Bridge Program is Made Possible By:
---
More Information
Under normal circumstances, our Food Assistance Programs utilize donations of grocery store gift cards as well as non-perishable food and supplies for our pantry. During COVID-19, we are using donated funds and grants to mail grocery store gift cards to our clients. We are grateful to our COVID-19 Grantors for helping us offer emergency food assistance to many more families to help them get through this especially difficult time.
Our Food Bridge Supporting Organizations make it possible to deliver our services to 30 families every two weeks, and making it possible to continue this assistance during COVID-19. These faith communities, businesses and community groups sign up for a Sunday or two during the year. Normally, they collect and deliver either grocery gift cards or non-perishable food items and supplies to our Food Bridge clients. During COVID-19, they are providing funds to Britepaths to mail grocery store gift cards or mailing gift cards themselves. We have an ongoing need for Food Bridge Supporting Organizations and welcome new organizations to get involved.
Britepaths is a founding member of the Fairfax Food Council, and we support community initiatives to make healthy food available to all. 
Resources
Social Workers: Click Here to learn how to make a referral for Food Assistance.
Need Help? Britepaths requires a referral for our Food and Financial Assistance Programs. Click Here to learn how to get help.