Jean Schiro-Zavela, Governor's Volunteerism Award Winner
"Jean inspires me, and we thoroughly enjoy having her on our team."
Update: May 20, 2021
 The saga of Jean's journey to receive her 2020
Governor's Volunteerism and Community Service Award
is a lengthy one. She had been scheduled to have it presented to her at a ceremony in Richmond in April 2020, but due to the pandemic that ceremony was cancelled, the awards were announced virtually in November 2020, and she was finally recognized by Governor Ralph Northam in a virtual ceremony on May 20, 2021! The award itself was sent to Britepaths in December 2020, and in February, Jean came in to receive her award. We are so proud of her and grateful for her service.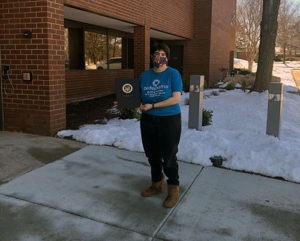 ---
All of us at Britepaths are so proud of our long-time volunteer Jean Schiro-Zavela, who received the 2020 Governor's Volunteerism and Community Service Award in the category of Outstanding Adult Volunteer. Click Here to view details.
Jean's volunteer work for Britepaths has indeed been outstanding. Her work is vital to ensuring that the data we collect and report on our Financial Literacy Program activities is up to date and accurate. She has freed up countless hours for our staff so that they can spend more time and energy coordinating and delivering services to our clients.
Jean began volunteering for Britepaths in 2011, and has increased her commitment over time. For nine years, she has volunteered nearly every week in our office, and often worked remotely as well. Since the beginning of the pandemic, she has continued to volunteer regularly from home.
Jean has volunteered more than 2,000 hours at Britepaths to date. She has also been a devoted financial assistance volunteer with SHARE of McLean for 20 years, along with other volunteer roles in the community and caring for her family. Jean has been a true friend and supporter of our organization and cares deeply about the plight of the families we serve. We are grateful to her and proud to call her a friend and colleague.
Financial Literacy Director Marcelle Miles said, "I first met Jean when she regularly came in to help our admin staff. As our financial literacy programs grew, I found we desperately needed help. Jean agreed to dedicate her time to our program, doing detailed work that was bogging me down and freeing me up to focus on serving our clients and improving the programs. I have long since come to rely on her. She is so smart, detail oriented, and she is the expert we go to with our questions about best practices for data entry. I also know her as a dedicated community member, parent and someone who gives back at every turn. She volunteers with another organization as well. Jean inspires me, and Carole and I thoroughly enjoy having her on our team."
Jean said, "Almost 10 years ago, I was looking for an opportunity to volunteer, and at Britepaths I found a dedicated staff that is not only friendly and appreciative of its volunteers, but really relies on them to get its work done.  Staff and volunteers work together to support each other in helping those facing financial challenges."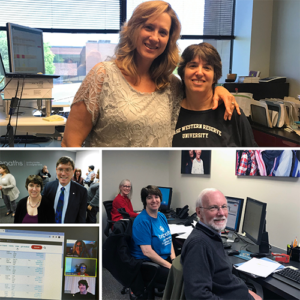 Jean Schiro-Zavela: Top: At right, with Financial Literacy Director Marcelle Miles; Bottom right: At center, with fellow longtime volunteers Anita Barnes (back) and Bill Arey; Bottom left: In a Zoom meeting with Marcelle and Financial Literacy Manager Carole Rogers; and Center Left: With husband Vance Zavela at our February 2020 Volunteer Appreciation Event.