Free Virtual Financial Counseling at the NOVA Housing Expo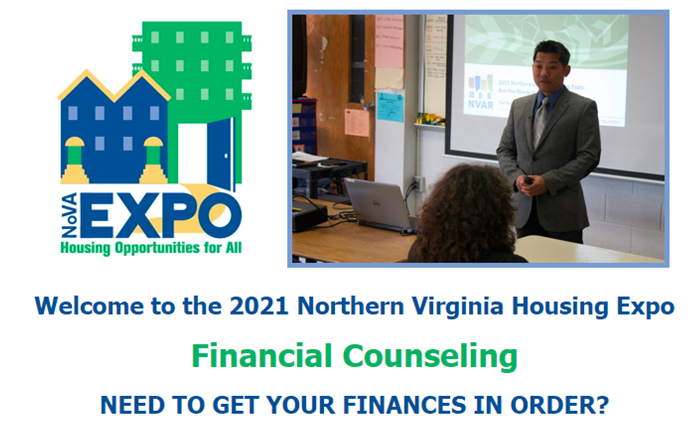 Britepaths and the Financial Empowerment Center at South County are excited to offer free Financial Coaching sessions as part of the year long 2021 Virtual Northern Virginia Housing Expo.
Register for Free Virtual Financial Counseling
Visit our Expo "Exhibit" Table
View All NOVA Housing Expo Offerings
Britepaths and the Financial Empowerment Center at South County are grateful to the organizers of the Northern Virginia Housing Expo for inviting us to offer free and confidential Financial Coaching sessions all year long as part of the 2021 Virtual Expo.
We have participated in the in-person Expo for many years. Last June, 22 of our Financial Literacy volunteers provided counseling sessions to 31 community members at the first Virtual NOVA Housing Expo. Many participants were seeking information about preparing to purchase a home, including how to improve their credit scores, pay down debt and build up funds for their emergency fund and/or down payment. They told us that they found their session to be helpful.
Said one participant: "It was helpful having someone provide us information, but also answer questions that we had. The advice was tailored to our unique situation and we left feeling empowered with specific steps we can take to reach our financial goals and be in the best position possible to purchase our new home in the near future. Staff and volunteers were personable, helpful and knowledgeable. We will definitely recommend this service to family and friends."
The NOVA Housing Expo organizers were enthusiastic about the response to the new format. There were 4,900 visitors to the home page, and 1,040 to our Financial Counseling page. They said, "Thank you to the folks at Britepaths for being such an outstanding partner — you've helped many people yet again." They plan for next year's Expo to have a large on-line component even if they're able to hold a live event in the spring.
Many Other Virtual Services Are Available! Click Here to learn more about Britepaths and FECSoCo's Virtual Financial Empowerment, Job Readiness consulting, classes, workshops and more.
Britepaths and FECSoCo's free financial coaching and mentoring services are made possible thanks to generous grants from United Way of the National Capital Area, Fairfax County and the Foundation for Financial Planning, along with donations from our supporters. We are also grateful to the knowledgeable and dedicated volunteers who donate their time to helping our neighbors get a handle on their finances. Thank you!