ITServe Laptop Donation Helps Our Clients Bridge Digital Divide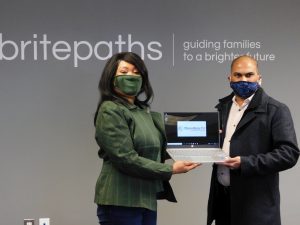 WATCH the ABC7 WJLA Story
READ the Fairfax Connection Article
Leveraging their personal resources and fueled by their desire to give back, local IT professionals from the DMV Chapter of ITServe Alliance raised funds to purchase 43 new, fully loaded laptops for individuals in Fairfax County who are facing the digital divide during the pandemic, lacking access to computers for their job search, education and more at a time when so many of these things have to be done from home. On February 10, members of the group came to Britepaths to present the donation. Britepaths plans to distribute most of the new computers to individuals who have had difficulty accessing social services, virtual education, and work opportunities, especially during the time of COVID. Some computers are intended for K through 12 students who need them for virtual school, and those will be distributed to clients' children as the needs are identified.
Avenues to Career Training
 (ACT) student Alicia Salmon was the first client to receive a laptop on February 12, and Anil Atyam represented ITServe Alliance to present the laptop. Reporters from
ABC7 WJLA TV
and the
Fairfax Connection
were present to capture the moment. ACT had previously been conducted in-person, but had to move to a virtual format last spring when the pandemic hit. Many students like Alicia did not have laptops or access to a place where they could use a computer. She is glad to have the laptop to help her put her ACT training to use as she completes certification training and looks for a job in her chosen healthcare field. She said, "This is my new beginning."
In the future, ITServe hopes to match professional IT mentors with Britepaths clients seeking employment in IT through our Network Up mentoring program. We are grateful to them for these meaningful investments in our clients' futures.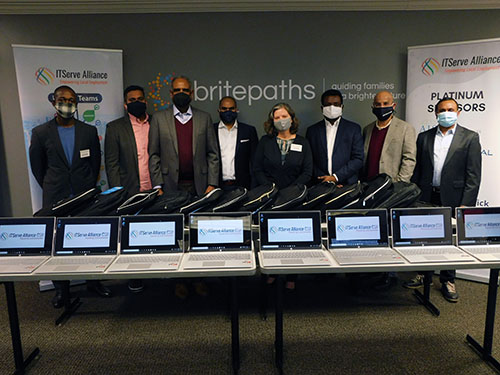 On February 10, members of ITServe Alliance's DMV Chapter presented Britepaths with 43 new laptops. In the photo, from left to right, are: Shannon Bryant, Britepaths; Ashwin Puppala, TelligenTech; Jay Challa, Ace Info Solutions; Anil Atyam, Cloud Integrator; Lisa Whetzel, Britepaths; Lax Chepuri, Technogen, Inc.; Sudhakar Garlanka, Allwyn Corporation; and Sateesh Gowrisetty, AdvanceSoft, Inc.