"Britepaths Saved My Life": Amey's Story
"Amey" and her family were burdened with business and medical debt and on the brink of eviction when she contacted Britepaths and the Financial Empowerment Center at South County (FECSoCo) in the summer of 2020.
Working with her volunteer Financial Mentor Dennis Elias over the past year, and with support from our Food Bridge program and other resources that Dennis helped her access, Amey and her husband have been able to catch up on their rent, pay off $6,000 worth of debt, start building their savings through our Matched Savings Program and are starting to plan for buying a home.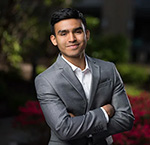 Dennis (right) is a Certified Financial Planner (CFP®), and his work with Amey was detailed in an article by our grantor the Foundation for Financial Planning (FFP), which encourages professionals like Dennis to provide pro bono financial coaching to community members who are struggling. FFP has provided funding for our Financial Mentoring and Coaching services at Britepaths and FECSoCo since 2013, and also awarded us a Communities of Color grant with BNY Mellon's Pershing to further the outreach we have long been conducting in our community.
It truly takes a community effort to help families like Amey's recover from a crisis and move themselves to financial stability and success. We are grateful to Dennis and our many wonderful Financial Literacy volunteers, FFP and our FECSoCo partners the United Way of the National Capital Area and Fairfax County, and our supporters for helping us provide these vital supports to our neighbors.
Amey Shares Her Story
Amey and our former Financial Empowerment Director Marcelle Miles had a lively discussion about her journey to seeking and accepting help, her hard work with Dennis, and her gratitude for Dennis and the Britepaths/FECSoCo team. We are so proud of her and grateful that she was willing to open up to us. To protect her privacy, we have changed her name, and she requested not to appear in the video or have her photo in the FFP article.