Fighting Local Hunger Every Day–Thanks to YOU!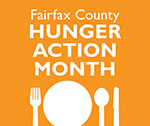 September is Hunger Action Month, when we shine a light on hunger and need in our community. According to Feeding America, more than 74,000 Fairfax County residents experience food insecurity. Thanks to our amazing supporters and partners, Britepaths is able to take action against hunger in Fairfax County and Northern Virginia each day of the year.
While the foundation of our Food Bridge program is providing short-term and emergency food support to local families in crisis, over the years, we have expanded our food outreach to include Our Daily Veggies farmers market vouchers and Food4Thought weekend food packs for students in select Fairfax County Public Schools. Recently, we began helping community members who receive SNAP (formerly food stamps) to use their EBT benefits to purchase fresh produce at the Annandale Farmers Market. Through our work with the Fairfax Food Council, we are helping promote sustainability and access to healthy food for all in Fairfax County and the Northern Virginia region.
For many years, Britepaths has served our Food Bridge clients with a combination of grocery store gift cards and shelf-stable food and supplies. In March 2020, after distributing as much food as possible from our Food Pantry, we shut it down and moved quickly to mailing gift cards to community members who were already struggling, and those newly struggling due to job loss and illness. Thanks to generous Covid-19 grants from local businesses and organizations, in addition to CARES Act grants from Fairfax County and the City of Fairfax, we were able to provide substantial assistance to help feed our neighbors during the pandemic. In August, we reopened our Food Pantry and have enjoyed seeing our families in person once again!
More About Our Food Services
In 2020, Britepaths' Food Bridge program provided food services to 734 unduplicated households, impacting 2,631 individuals, including 1,227 children in those homes. This includes Covid CARES Act food assistance, delivered food, emergency food, and fresh produce boxes that were delivered to families in quarantine due to Covid in the Alexandria area, in a pandemic pivot for the Our Daily Veggies program. Our Food4Thought program served 1,309 students in 20 FCPS partner schools.
Delivered Food: Families in this program are typically working with our Financial Mentoring program, the Financial Empowerment Center at South County or our Workforce Development program to improve their financial outlook. They receive grocery store gift cards every other week for up to six months to help them maintain financial stability and use their funds to pay off bills and build savings. Food Bridge Supporting Organizations commit to one or more Sundays throughout the year and deliver food and supplies or grocery store gift cards. During the pandemic, they have been mailing gift cards or providing funds or gift cards to Britepaths to mail to families.
Emergency Food: In much of 2020 and the first part of this year, Britepaths staff mailed grocery store gift cards to clients in crisis who were referred to us for emergency food by Fairfax County social workers and partner organizations. In August, we reopened our Pantry and are once again serving clients by providing one or two packings of food and supplies from our Pantry along with a grocery store gift card.
Our Daily Veggies: Since 2010, we have distributed vouchers to our clients to shop for fresh produce from farmers and producers at local farmers markets who agree to accept the vouchers. In 2020, we pivoted to provide produce boxes to Alexandria area families in quarantine. This year, we are once again providing vouchers to our families.
EBT at Fairfax County's Annandale Farmers Market: Through a grant from Fairfax County, Britepaths is partnering with the Fairfax County Park Authority and FRESHFARM to assist community members who receive SNAP benefits to redeem funds on their EBT benefit cards at farm stands at the Annandale Farmers Market. Through the program, they receive matching funds to stretch their dollars to purchase fresh fruits and vegetables.
Food4Thought: Britepaths now has 22 FCPS Partner Schools. We provide funding and technical supports to those schools' efforts to offer weekend food packs or supplemental food to students in need at their schools. Through a grant from Fairfax County, we partner with Food for Others to assist as many FCPS students in need across the system as possible. Food for Others distributes food packs to Title I schools, while Britepaths works in partnerships with school staff, PTA volunteers and other community organizations to support their own students.
How You Can Help
It Takes a Community!
We are so grateful to all of our individual supporters who donate funds, gift cards, food and food packs to help our families, as well as our local governments, faith communities, companies and community organizations who are supporting this work in a variety of ways. A special thank you to our major grantors and supporting organizations:
Food Bridge Program
Food Bridge Supporting Organizations (Delivered Food)
Food4Thought Major Grantors and Partners: