Farmers Market Initiatives
Britepaths has two initiatives to offer greater access to fresh, healthy foods to community members who are experiencing food insecurity. Our Daily Veggies farmers market vouchers and our SNAP/EBT Program at select Fairfax County Farmers Markets are a win-win for our community, providing more fresh produce to our families while giving business to local farms and producers.
Our Daily Veggies
Since 2010, Britepaths has been providing Our Daily Veggies Farmers Market Vouchers to our clients from May through November so they can purchase fresh produce and protein products from participating vendors at Fairfax County area Farmers Markets. We love this opportunity to supplement the food support we provide our clients while also supporting local producers. Many of our participating vendors (listed below) have been with us from the program's beginning.
SNAP/EBT at the Farmers Markets
Britepaths has been partnering since 2021 with the Fairfax County Park Authority, FRESHFARM and Local Environmental Agriculture Project (LEAP) to staff a table at the Annandale Farmers Market each Thursday morning during the market season that offers community members who use SNAP/EBT benefits the opportunity to have their benefits matched up to $30 so they can shop for fresh produce. For the 2023 season, we are back at the Annandale Market and are now also at the Wakefield Market on Wednesday afternoons. Learn More: Click Here to learn more about SNAP at 5 of the the County's markets. Volunteers Needed! Click Here to learn about being a SNAP volunteer.
Thank You to Our 2023 Our Daily Veggies Vendors!
We are grateful to our participating Our Daily Veggies Vendors whose stands at the Fairfax County Farmers Markets and the Fairfax Community Farmers' Market offer our families the opportunity to purchase fresh produce and protein products. If you shop at these markets, please support them! Several have CSAs or pre-order options.
More vendors welcome! Email info@britepaths.org if you're a vendor who is interested in becoming an Our Daily Veggies partner.
78 Acres, LLC
FJ Medina & Sons Farm
Garner's Produce
J&W Valley View Farm
Kuhn Orchards
Linda Vista Farm
Misty Meadow Farm Creamery
Ochoa Produce
Orchard Country Produce
Potomac Vegetable Farms
Reid's Orchard
Spring Valley Farm
Threeway Farms
Tuckey's Mountain-Grown Berries, Fruit, and Vegetables
Twin Springs Fruit Farm
Valdez Brothers Produce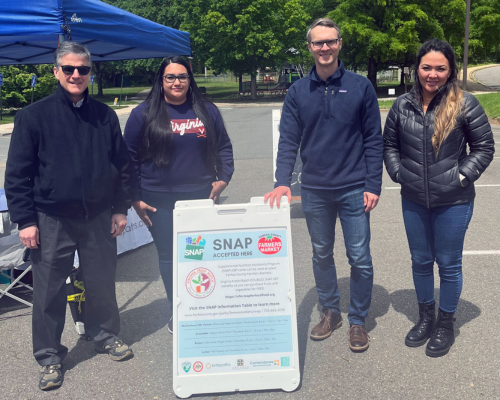 Contact
For more information about our Farmers Market Initiatives, contact Brenda Hernandez at 703.273.8829 or contact us online