In early March 2020, everyone in the Fairfax County area began to prepare for sheltering in place due to COVID-19. Britepaths mobilized quickly and called on our community for donations of supplies and funds — initially to help families stock up on food and supplies, and then to sustain them as the shut down wore on. Hundreds of generous community members and organizations donated, and we have also received generous COVID-19 Grant funding to help our neighbors.
In addition to offering basic needs assistance, we quickly moved our Financial Literacy and Workforce Development programs through Britepaths and the Financial Empowerment Center at South County to virtual platforms or phone so that our mentoring work could continue and community members who are experiencing job loss and other financial impacts can continue to receive coaching and classes to help them adjust.
At this writing, Virginia is still under stay-at-home orders and it is hard to tell when things will go back to normal. These are challenging times for our clients, who were already leading stressful lives before the shutdown, but also for our volunteers and staff, as we all adjust to a new normal. Here are some stories about how our clients, volunteers and staff are faring during COVID-19.
Client Stories
Carolina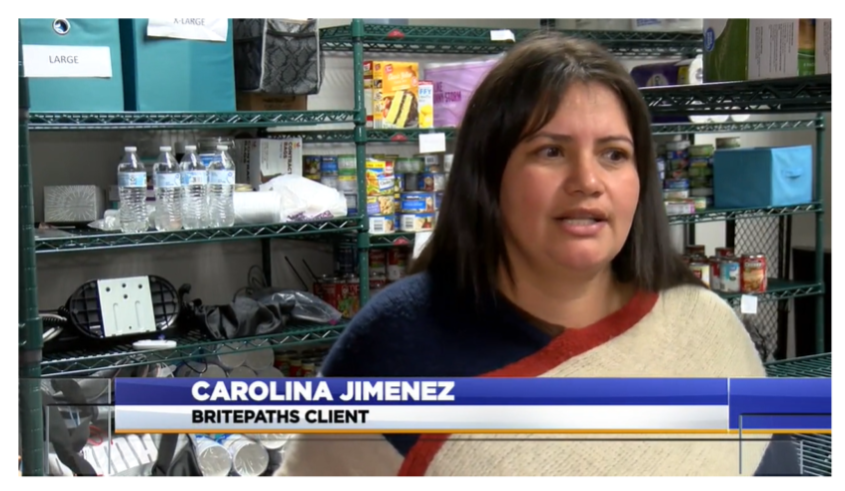 As clients prepared to shelter in place, WDVM-TV visited Britepaths and talked to Carolina, a single mom with two little girls who had just been laid off from her job. View the News Story. Carolina has written several grateful emails. She said, "Thank you so so much for all your support, guidance and advice during these hard times. I really appreciate all your help to provide food for me and my girls. They are so so happy when I buy groceries and choose good food and snacks for them. People like you make of this Country a beautiful place to live. Thanks to all the people who make these donations possible. God bless all of you for your generosity."
Our Daily Veggies Produce Box Recipients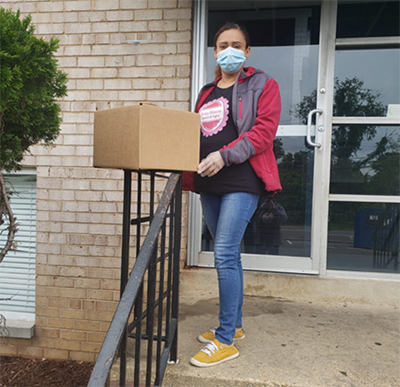 Britepaths has modified our Our Daily Veggies program for 2020 to respond to the COVID-19 crisis in our community. We are collaborating with the Arcadia Center for Sustainable Food & Agriculture, the Northern Virginia Health Foundation (NVHF) and Fairfax County to provide produce boxes to families in the Route 1 area of Fairfax County who are food insecure and are directly and indirectly affected by COVID-19. Said one mom who received the box, "Right now I can not buy fruits or vegetables for my girls to eat because I lost my job as a housekeeper due to COVID-19. Thanks to the box of food, my girls get to eat more healthy food which they enjoy and we don't stay hungry."
Ms. C: "You've Brought So Much Calm to a Lot of Uncertainty"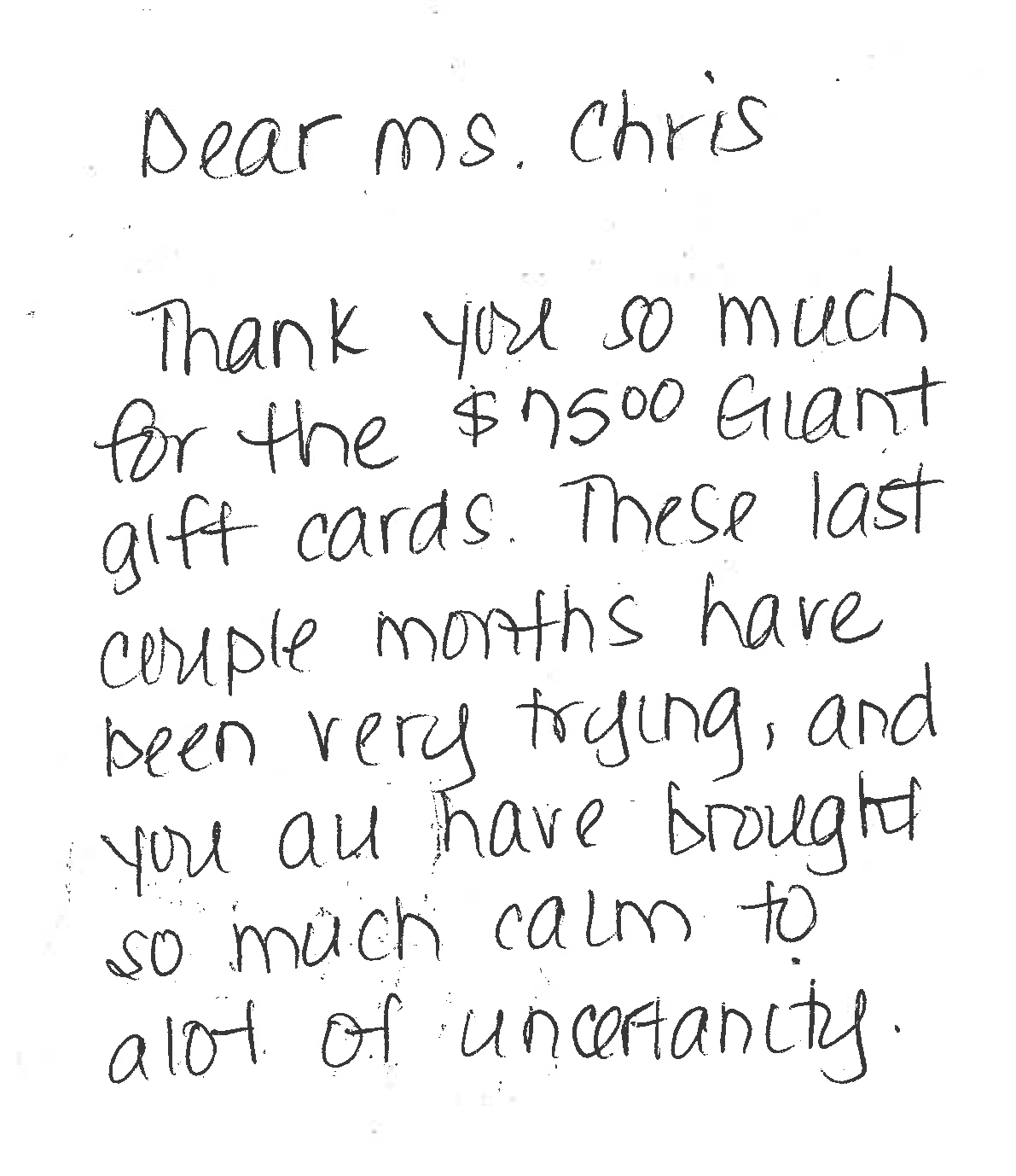 Ms. C is working with us to get a better job through our Workforce Development Program, and we're also providing grocery store gift cards to help her through this extra-difficult time. We extend her thanks to YOU for helping make this support possible. We can't do it without you, and we are enormously grateful to live in a caring community that is making life better for families like Ms. C's during these trying times. Thank you!
Ms. A Says "Thank You for Caring"
"Starting mid-February my work started to decline because of coronavirus, and by March 15 it completely stopped. I am having a difficult time because of this great loss. Since I am an independent contractor, I am unable to get unemployment benefits. Through this difficult time, your organization is assisting me with groceries and I am grateful for that! Thank you for caring enough to send the grocery cards!" — Ms. A, FECSoCo and Food Bridge Client.
Ms. A was working with us at the Financial Empowerment Center at South County to improve her financial outlook, but when her income dried up, we knew she would need some extra help to get by. Thanks to YOUR support, we're able to send her grocery store gift cards to keep food on the table and ease her worries during this difficult time. We're passing her thanks on to YOU for caring enough to make it possible to help her. Thank you.
Ms. N Says Thank You
"Britepaths is saving lives! I have had a great experience working with this program and associates. I am a single mother with 3 children and trying to get my life back after being in an a 11-year abusive relationship. Britepaths has made a tremendous effort to make sure my family was fed and had all of our essential needs. Among other agencies in Fairfax county, Britepaths gave me what I needed to make ends meet, and we are truly blessed to receive continued assistance during this horrible time in the world. We thank you for all you do!" — Ms. N, Emergency Food Recipient, via email
Robin
Robin came to Britepaths on March 18 to pick up food and supplies. She had just lost her job and doesn't know when she'll be able to work again. She is grateful for the support she and her three children are receiving from Britepaths during this difficult time.
Ms. M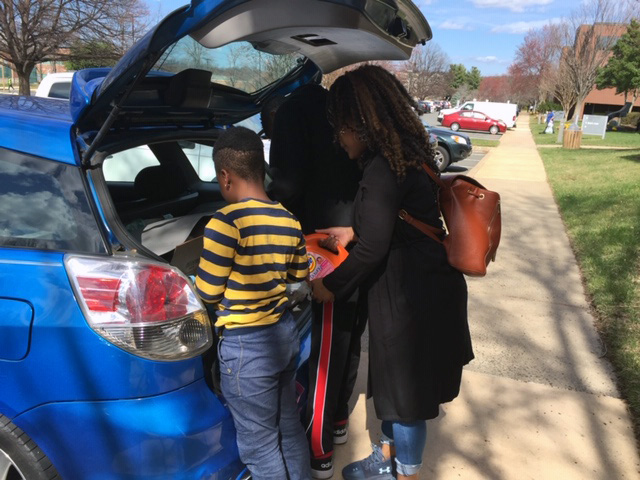 Ms. M was already struggling, and then she felt like she needed to spend what money she had before the shutdown on medications and hygiene/cleaning supplies to prepare herself and her boys for the unknown. "Life has really been too hard," she said. Thanks to our generous supporters, Britepaths has been a lifeline to Ms. M. We sent her a grocery gift card, and on March 13 she came and picked up some extra food and supplies to see them through. "We do not take your kindness for granted, please know you are appreciated," she said.
---
Volunteers
Virtual Northern Virginia Housing Expo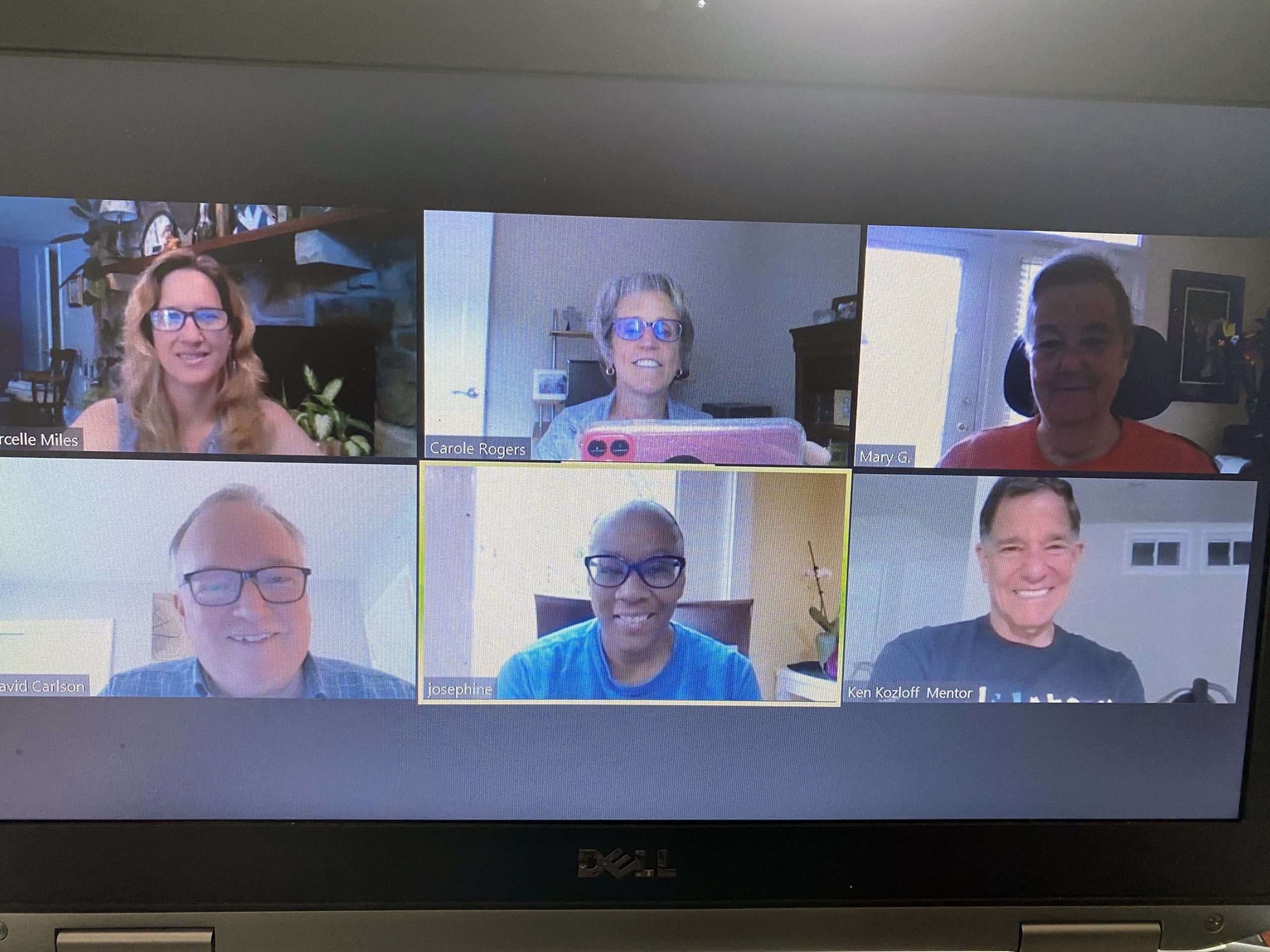 For many years, Britepaths and the Financial Empowerment Center at South County have offered free Financial Counseling sessions at the Northern Virginia Housing Expo. This year, the Expo cancelled its regular in-person event in April and went all-virtual for the month of June. In the photo are some of our long-time volunteer Financial Counselors, who adapted nicely to offering sessions through Zoom starting on June 6. One participant told his financial planner that he's on assignment overseas with the U.S. military and wants to look into purchasing a home when he comes home in the fall. He learned about the Expo Counseling sessions from his father who lives in Arlington and saw a Washington Post article about the event. In the pic from top left are Financial Literacy Director Marcelle Miles, Financial Literacy Manager Carole Rogers and volunteers Mary Ginn, Dave Carlson, Josephine Johnson and Ken Kozloff. We're so grateful to them for sharing their knowledge and being flexible to meet our clients where they are! Learn More
Pantry Clearing, May 11
Britepaths has not distributed food from our pantry since the stay-at-home orders were put in place in late March. We mail grocery store gift cards to our clients instead. On May 11, we cleared out our pantry so that Fairfax County's Neighborhood and Community Services staff could deliver the food and supplies we had left to Food for Others. Our volunteers Daniel, Matt and Spencer helped Britepaths' Mila Cobos and Christina Garris clear the shelves and pack up 1,450 pounds of food! View photos and story in our Facebook album.
Marianne Allen, Network Up Volunteer
Marianne Allen is a long-time Britepaths volunteer who is currently serving as a Network Up volunteer, helping our clients prepare and network for better jobs. When she couldn't meet with her mentee Yasmine in person anymore, they quickly moved to Facetime to continue their important work to help Yasmine find a job. We're grateful to Marianne and all our volunteers who have pivoted with us to continue helping clients during this difficult time.
Our Office Volunteers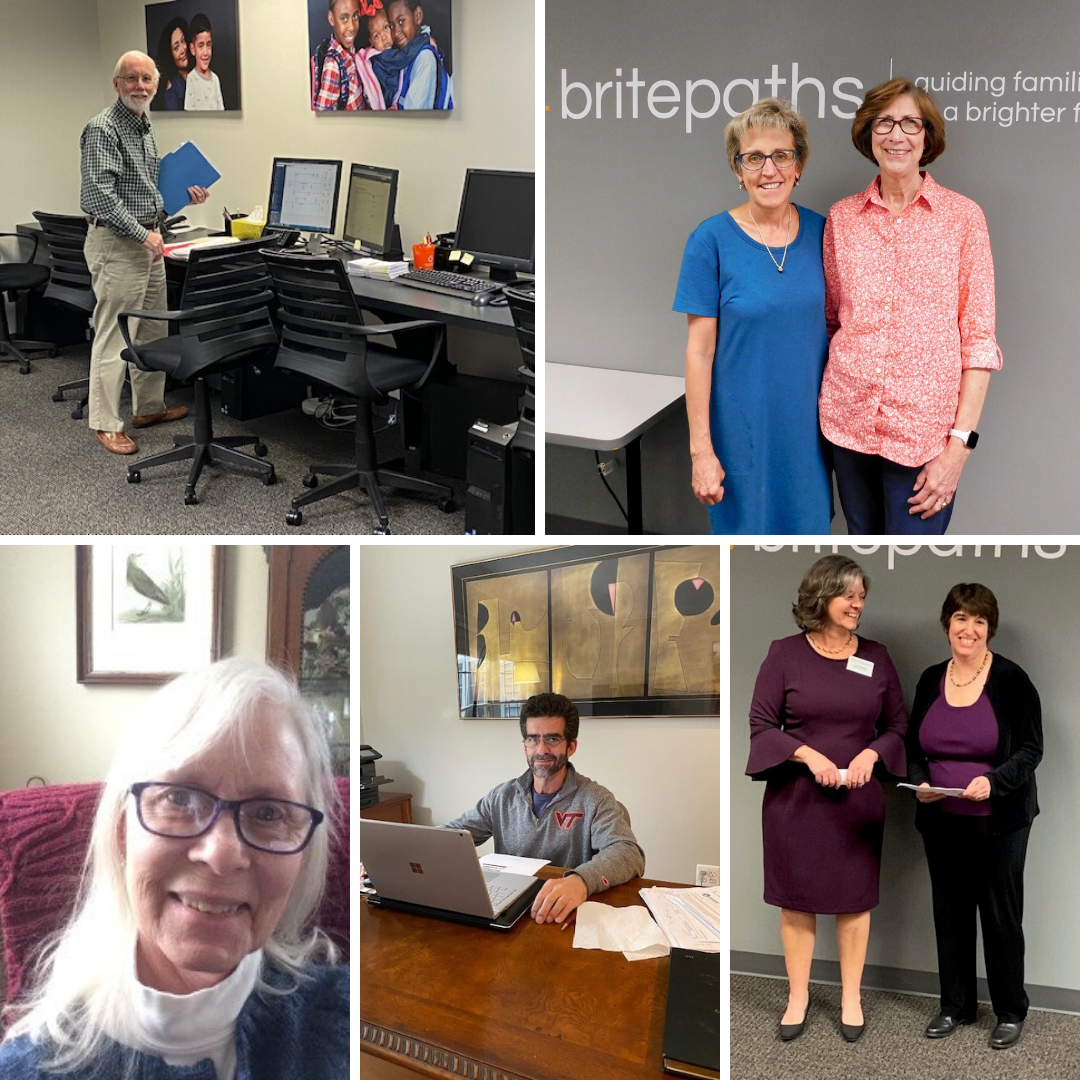 Several of our wonderful office volunteers are continuing to volunteer from home to help our staff continue to provide services. From top left: Bill Arey is actually still coming in once a week to help with data. Elizabeth Parks (she's at right with Carole in a photo from last year) and Anita Barnes (who sent us a selfie) are calling clients and entering their information into our database. Jamie Axelrod (at home) is helping keep track of all the grocery store gift cards we're sending and doing other data entry. Jean Schiro-Zavela (at right with Lisa at our February Volunteer Appreciation event) is helping keep our Financial Literacy Program client data up to date. They do wonders for us all year round, but we're extra grateful to them for stepping up to help keep things running smoothly during these difficult times.
Pam Davis, Financial Literacy Volunteer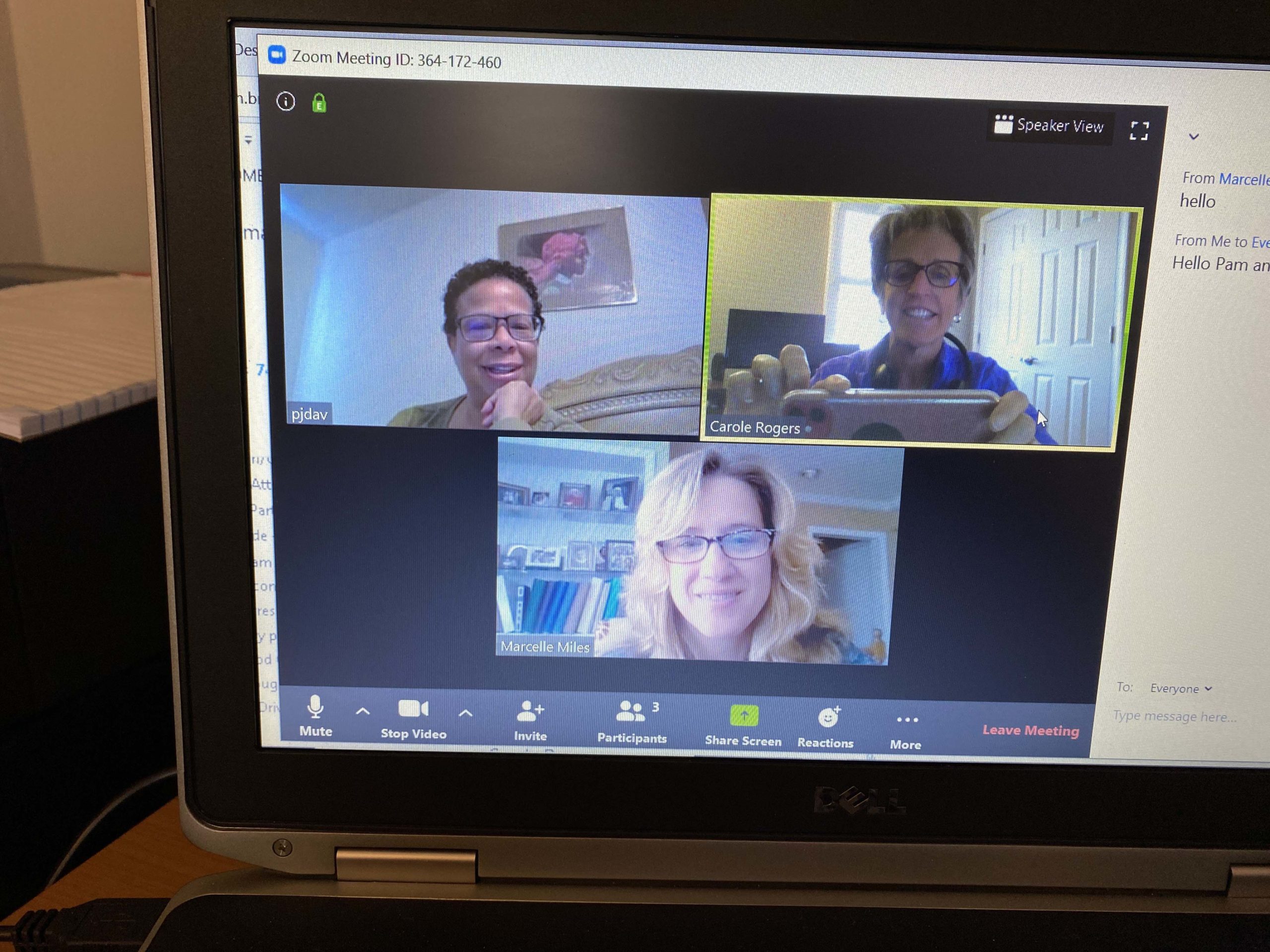 Long-time Financial Literacy volunteer Pam Davis (top left) met with Financial Literacy Manager Carole Rogers (top right) and Financial Literacy Director Marcelle Miles in late March to discuss the logistics of holding some of our regular classes such as Thrifty Thursdays Basic Budgeting online.
---
Supporters
Universal Janitorial Services, Inc.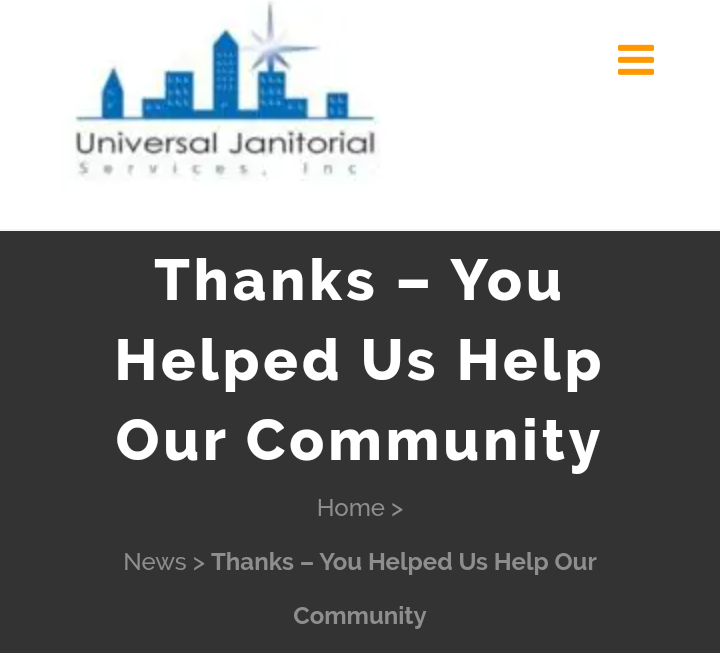 A True Neighbors Helping Neighbors story! In April, Universal Janitorial Services, Inc. President Mark Lineberry posted in a Fairfax City Facebook group that his company recognized the difficulties that people in our community are facing because of everything being shutdown and wanted to help. The company would donate a percentage of their revenue received in April to local charities and was asking for recommendations. A LOT of Britepaths' friends chimed in to recommend us, and he selected Britepaths and Capital Area Food Bank as the beneficiaries. The company exceeded their $10,000 goal and raised more than $12,000! They donated $6,200 in COVID-19 Grant funds to support food and financial assistance. Read More
Janet Sifers Photography/Front Steps Project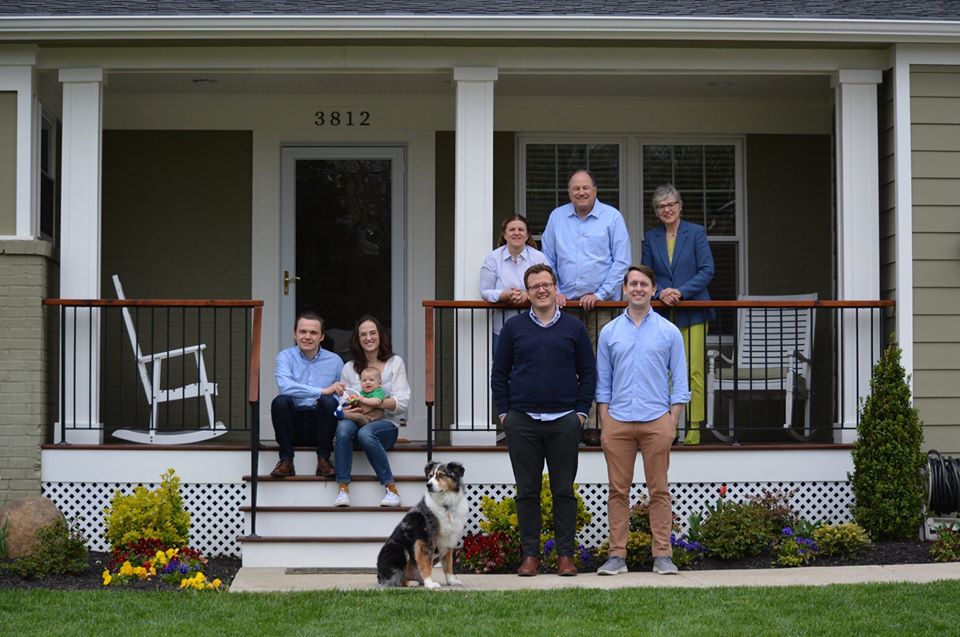 Local photographer Janet Sifers enters her wonderful photography in our Artful Living art show each year. Since we had to cancel this year's April 23 event due to COVID-19, she decided to support Britepaths through #TheFrontStepsProject. From mid-March through the end of April 2020, she did brief (socially distant!) photo sessions with more than 40 families in our community, and they each made a donation of at least $25 to Britepaths. Her project raised more than $1,000 to support our Adjust. Give. Campaign. In this photo, Britepaths Board of Directors member Catherine Read and her family. Read More
---
Staff
Office Staff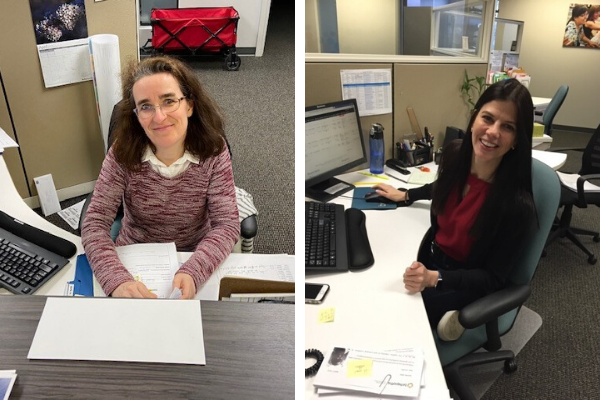 All of Britepaths' staff has been working really hard from home since stay-at-home orders were put in place, but a couple of our staffers continue to come into the office regularly. Our Operations Administrator Mila Cobos (left) is processing gift cards and mailing them to our Food Bridge clients, coordinating with office volunteers and many other tasks. Our Financial Programs Manager Diana Vallenilla is overseeing our Financial Assistance Program and coordinating with social workers, volunteers and vendors to ensure that eligible clients' bills are paid so they can stay in their homes and keep the power on. She also handles many bookkeeping and countless other operational tasks.
Working From Home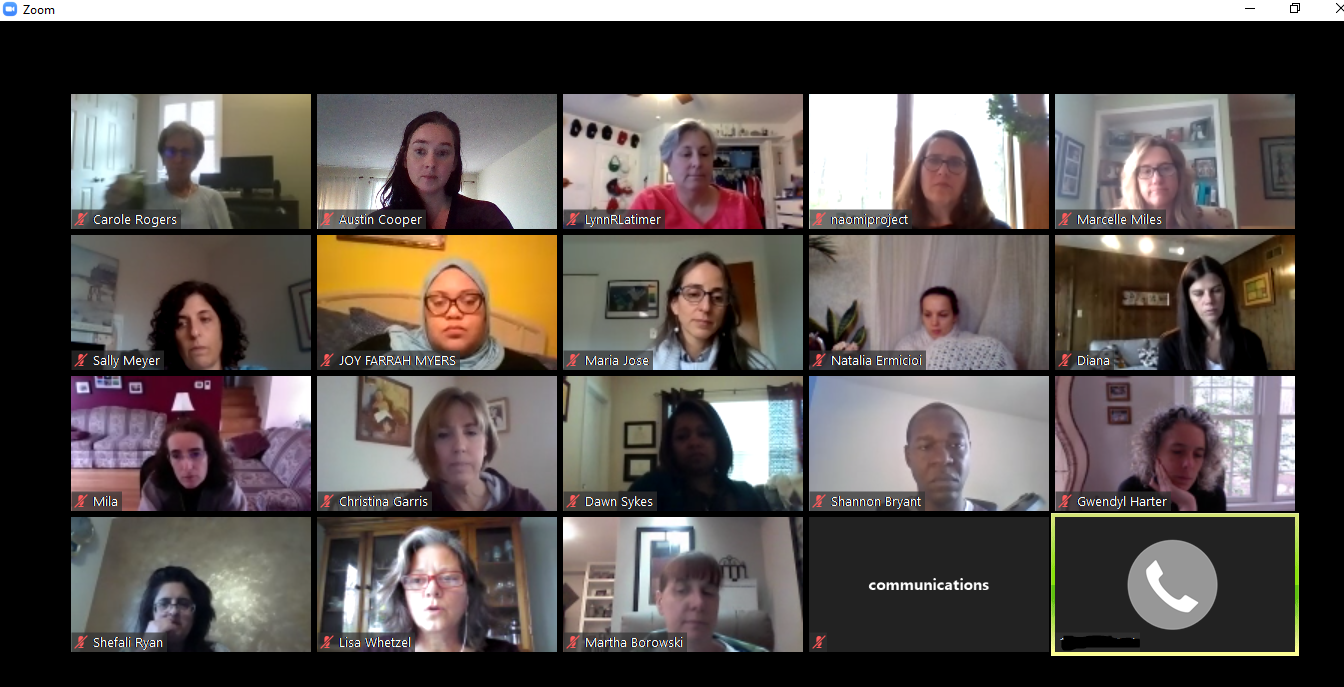 Hard at work — from home! Britepaths and Financial Empowerment Center at South County staff had our first-ever virtual staff meeting on March 31. We really enjoyed catching up with each other! Staff continue to interact and work hard via Zoom, Slack, email and phone. Thanks to our amazing pro-bono IT services provider MacroSystems LLC, we're all able to connect to our computer files from wherever we are. This support has really helped keep us connected and made the transition to work at home seemless.