Help and Hope in Challenging Times
Thanks to our generous COVID-19 Grantors and supporters like you, Britepaths was able to provide help and hope to Fairfax County area families who were struggling in 2020 due to the pandemic. We have heard from so many of the recipients of food and financial assistance how grateful they are, and we share some of their expressions of gratitude here. Thank you to all who are making this happen!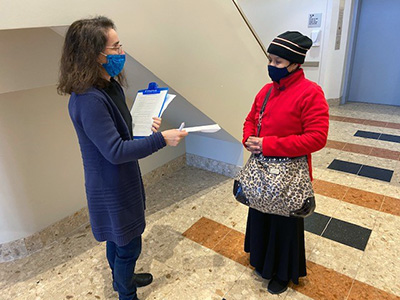 On December 21, we distributed grocery store gift cards to 22 families who live in Fairfax City to help them weather the pandemic. Ms. P expressed her gratitude. She and her husband have both experienced job setbacks since the shutdown. We are grateful to the City of Fairfax for granting us CARES Act funds to provide food assistance and digital access support to City families who are struggling during this difficult time.
---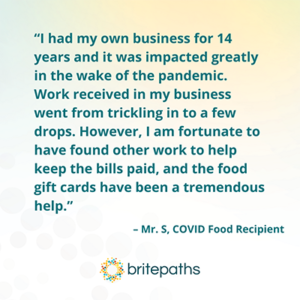 Mr. S wrote: "I'm writing you to express my sincere gratitude for the food gift cards. I had my own business for 14 years and it was impacted greatly in the wake of the pandemic. Work received in my business went from trickling in to a few drops. However, I am fortunate to have found other work to help keep the bills paid, and the food gift cards have been a tremendous help. I am grateful to Britepaths, and I appreciate all that you do for the community."
---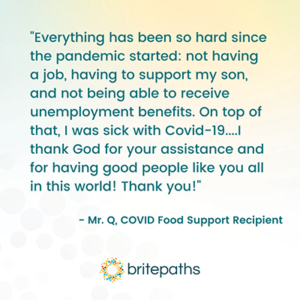 "Thank you for the gift cards we received. They have been very helpful to buy food. Everything has been so hard since the pandemic started: not having a job, having to support my son financially, and not being able to receive unemployment benefits. On top of that, I was sick with Covid-19. All of that has led to big issues, including being months behind on my rent and utility bills. I shed tears of happiness when I thank God for your assistance and for having good people like you all in this world! Thank you!"
---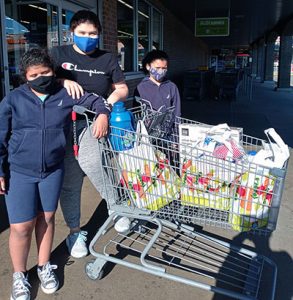 Ms. G and her family were so excited to be able to go out and shop for food thanks to the grocery store gift cards we were able to send her. She emailed us this photo and said, "I wholeheartedly thank you for the help you provided us. We were able to buy groceries! God bless you so you can help a lot more people. Again, thank you so much!"
---
Mr. K and his wife have 3 children. He wrote us this touching note AND called to give his heartfelt thanks. Your support for families like Mr. K's is truly providing help and hope in a difficult time. Thank you! Here's his full message: "Thank you so much for your gift card. We are so grateful for the assistance you provided to us. As you know, we are just like most people that are experiencing hardship during this killer pandemic. We run a small business. We had a steady income, but since the pandemic hit our world, we lost most of our income. We didn't lose hope because we know that there are noble people like you that really care about others. We really appreciate your help."
---
"The last few months have been very hard for us as a family. First I lost my job, and then the same happened to my husband. I am now back to work, but with reduced hours. My husband could not find a job and he is now taking care of our kids, since the people who used to watch our kids do not want to risk coming to our home now. Also, school will start soon and my children will need someone to support them with their online classes. For that reason, my husband is now looking for a night job so that he can stay with our kids during the day.
"Obviously, this pandemic has changed our daily routine. But now, thanks to your gift cards, we will be able to pay some bills that we used to pay with my husband's wages. Thank you so much again. God bless you so you can keep helping other families in need. Socially distanced hugs to you!" – Ms. P. COVID-19 Food Assistance Recipient
---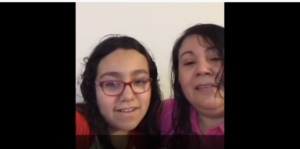 We were touched to receive this video from Teresa and her daughter. Their family has been struggling during the pandemic, and they are so grateful for the grocery store gift cards that are helping them keep food on the table during this difficult time.
---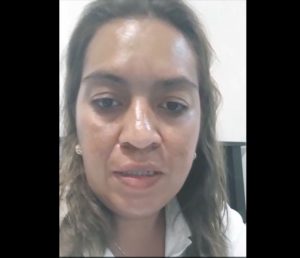 WATCH Video Ingrid lost her job in March due to the pandemic. The grocery store gift cards she received thanks to Britepaths' generous grantors and supporters have been a lifeline for her and her daughter during this difficult time. She says that if it weren't for this support, they would not have had anything to eat. She shares her gratitude and says, "Thanks to you, many families are better off."
---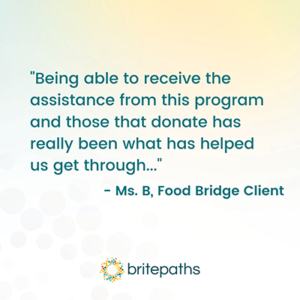 Ms. B receives biweekly food support through our Food Bridge Program. She wrote, "I would love to let you know how much this assistance has really blessed our family. It has been really hard since this pandemic has started with having a newborn and a 4-year-old and being a single mother. My income is severely stretched because my schedule was cut for a while, then we got reduced hours. But being able to receive the assistance from this program and those that donate has really been what has helped us get through. Thank you all for all of your support and help to my family."
---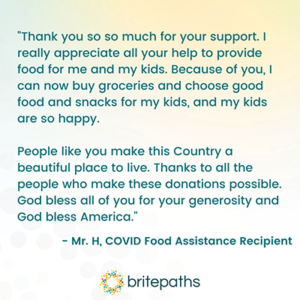 Mr. H is a single dad with two young children. He is so grateful for the food assistance for him and his children. Thank you for making it possible for us to help them.