TEGNA Foundation Grant Provides Weekend Food for Kids in Need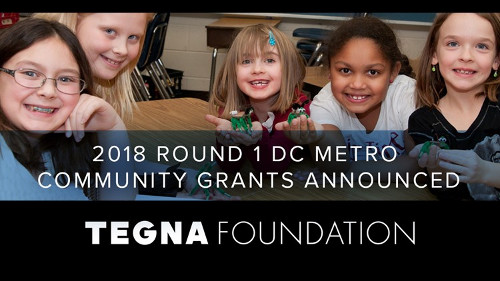 Britepaths is honored have been awarded a $5,000 grant from the TEGNA Foundation and WUSA9 to benefit our Food4Thought program in 2018. We are one of seven non-profits in the Washington, D.C. Metropolitan area to receive a grant in this cycle.
Food4Thought partners with 16 Fairfax County Public Schools to support their efforts to provide weekend food packs to students in need at their schools. The grant will help us provide grocery store gift cards to our partner schools to help them supplement their food supplies when they run low on donations. This support will be vital as our partner schools gear up to help their kids in the new school year.
The TEGNA Foundation, the charitable foundation sponsored by TEGNA Inc. and its Washington, DC affiliate TV station, WUSA9, announced today the first-round of 2018 DC Metro community grants.
The seven grants were vetted and recommended by a committee of employees from WUSA9, including Richard Dyer, President and General Manager. The recommended grants receive final approval by the TEGNA Foundation Board of Directors.
READ the TEGNA Foundation Press Release
Click Here to learn more and support Britepaths' Food4Thought Program 
Our Partner Schools are:
Alexandria:
Fort Hunt ES
Hollin Meadows ES
Montrose ALC
Woodley Hills ES
Centreville:
Bull Run ES
Cub Run ES
Fairfax City/Central Fairfax:
Daniels Run ES
Frost MS
Little Run ES
Mosby Woods ES
Providence ES
Falls Church:
Westlawn ES
Herndon/Reston:
Hunters Woods ES
Langston Hughes MS
Vienna:
Cedar Lane School
Marshall Road ES