Grand Opening of the Financial Empowerment Center at South County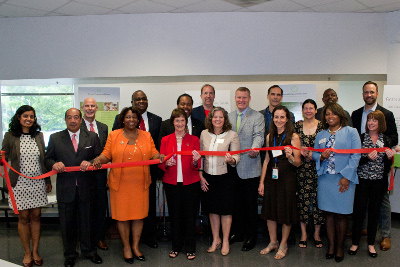 View Photos
Video: Karan's Story
In the News: Mt. Vernon Gazette
On Friday, June 8, 2018, United Way of the National Capital Area (United Way NCA) with its partners Fairfax County Neighborhood and Community Services and Britepaths, officially opened its new United Way NCA Financial Empowerment Center at South County, Alexandria, VA with a ribbon cutting ceremony.
"United Way NCA's goal for these Financial Empowerment Centers is to help area residents overcome academic, social and economic barriers to success through a two-generational approach focused on children and families," said Rosie Allen-Herring, President and CEO, United Way NCA. "Our plan is to open several more centers in the next few years as part of our Community Commitment, a $12.3 million investment to address the education, financial stability and health of residents in the region. We are currently in year three of this five-year effort and our goal is to help 100,000 residents achieve financial stability."
United Way NCA Financial Empowerment Centers offer direct access to high quality financial services and guidance in a welcoming, professional environment at no cost. Each Financial Empowerment Center brings together the most effective partners to help clients grow income, build assets, manage debt and improve credit—a much needed resource for a community with many residents facing substantial economic challenges but see the benefit of financial advice to break out of poverty. Services include one-on-one financial coaching, personal and business-focused workshops, tax preparation, housing counseling and more.
United Way NCA's Financial Empowerment Center at South County is made possible with support from founding partner Citi Community Development, and additional support from the estate of Colonel Kenneth Moll, USAF (retired), Bank of America, PNC and M&T.
"It is important that everyone, regardless of socio-economic status, has access to knowledge and resources that can help families make smart financial choices," said Sharon Bulova, Chairman of the Fairfax County Board of Supervisors. "I am proud to have the Financial Empowerment Center here in Fairfax County to help local families achieve long-term financial stability, meet their savings goals, improve credit and even start the process of starting their own business. When every community member has the chance to play a productive role in our local economy, that's when entire communities thrive."
"Britepaths has a proven track record of improving the lives of hard-working individuals by helping them get a grasp of their finances," said Lisa Whetzel, Executive Director, Britepaths. "We are honored to be a FEC partner and help the community learn about personal finance, set goals and achieve them."
Approximately 260,000 residents in the region belong to a household that is "unbanked," which means these residents are not connected with mainstream banking services and may be using predatory services like check cashing and payday loans to make ends meet.
The Center's founding corporate partner, Citi Community Development, has supported the financial empowerment center model across a number of cities in the Unities States, beginning with support for the first Financial Empowerment Center in New York City in 2008.
"According to Prosperity Now, one in five families in Fairfax County are financially vulnerable – without enough savings to live at the poverty level for three months if they suffer an income disruption," said Reginald Exum, Vice President, Greater Washington, Citi Community Development. "Financial Empowerment Centers help ensure that residents have the tools and support they need to build more resilient financial futures by saving money, building credit and paying down debt."
This is the third United Way NCA Financial Empowerment Center to open since 2015 with other locations at Prince George's Community College's Largo Campus and The Skyland Workforce Center in Washington, DC
To learn more about the United Way Financial Empowerment Centers at South County, please visit FECSoCo.org or follow @FECSoCo on Facebook, Twitter and Instagram.
About United Way of the National Capital Area
United Way of the National Capital Area fights for the health, education and financial stability of every person in the National Capital community. United Way NCA has been improving lives by creating measurable impact in the District of Columbia, Northern Virginia, and Montgomery and Prince George's Counties for more than 40 years. For more information about United Way of the National Capital Area, visit UnitedWayNCA.org.
About Fairfax County Neighborhood and Community Services:
Neighborhood and Community Services promotes the well-being of individuals, families and communities by providing a variety of recreation, educational and developmental programs and services; by facilitating community engagement to identify areas of need and enhance countywide capacity for serving those needs; and by connecting residents with a broad spectrum of county- and community-based resources and services to help them be safe, be healthy and realize their potential. For more information, visit www.fairfaxcounty.gov/neighborhood-community-services.
About Britepaths
Britepaths provides assistance and a way forward for struggling individuals and families throughout the Fairfax County area. The organization relies on funding and volunteer support from businesses, individuals, community organizations and faith communities to provide services that: Stabilize Families: supplemental food and financial assistance; Build Resilience: Financial Education, Project BRIDGE and the Naomi Project; and offer Seasonal Supports: Back to School and Holiday assistance. More information is available at: https://britepaths.org.
About Citi Community Development
Citi Community Development leads Citi's commitment to financial inclusion and economic empowerment for underserved individuals, families and communities across the U.S. Through innovative collaborations with municipalities, community groups and leading nonprofit organizations, we harness Citi's expertise, products and services to help expand opportunity for all. Additional information may be found at http://citicommunitydevelopment.com.