Lisa Whetzel Finalist for The Center 2021 EXCEL Award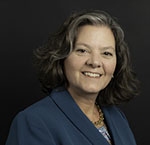 On November 4, 2021, the Center for Nonprofit Advancement recognized Britepaths Executive Director Lisa Whetzel with an Honorable Mention for its 2021 Excellence in Chief Executive Leadership (EXCEL) Award. Read the Announcement
Britepaths' staff nominated her for the award, and along with Britepaths' Board of Directors, are proud of her leadership and her achievement of this much-deserved honor. We also congratulate the Award Winner Koube Ngaaje, President & CEO at District Alliance for Safe Housing and Honorable Mention recipient Mark Chalfant, Artistic and Executive Director at Washington Improv Theater.
The Center recognized the Award recipients at its 42nd Annual Celebration on November 16, 2021. Along with the Honorable Mention designation for Lisa, Britepaths received a $3,000 award to support professional development programs for staff.
Leadership Video Series
The Center created a three-part Best Practices Learning video series featuring the three finalists.
Background
Lisa has been with Britepaths since 2005, and has served as Executive Director since 2007. When Lisa became Executive Director, it was a small organization with five staff members and a $300,000 budget, serving 1,000 people annually. Under her leadership, Britepaths has grown to serve more than 7,000 clients, with two offices, 22 staff members, and an approximately $1.5 million budget (due to pandemic assistance funds, it is more than $5 million for FY 2022). Lisa is a proven leader in creating culture and policies which attract and retain exceptional talent which is demonstrated by longevity of staff employment and improving diversity in staff and board composition.
Awarded by the Center since 2005 and sponsored by GRF CPAs & Advisors since 2007, the EXCEL Award honors exceptional nonprofit chief executives in our region. The competition recognizes achievement in the areas of innovation, motivation, community building, ethical integrity and strategic leadership. Click Here to learn more.