DWCNV Holiday Drive Feeds Our Families in January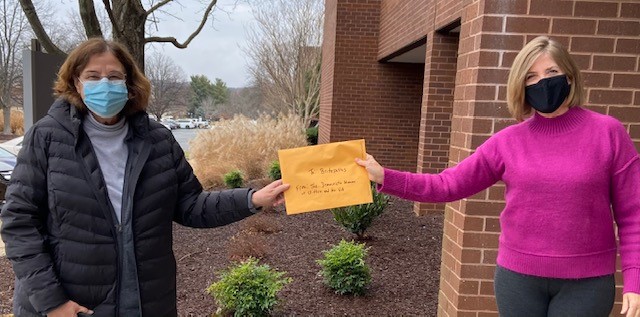 DWCNV's Jane Barker (left) delivered the donations to our Programs Director Christina Garris on Jan. 5, 2021
A BIG Thank You to the generous members of the Democratic Women of Clifton and Northern Virginia (DWCNV), who raised $4,010 in funds and grocery store gift cards during their annual Holiday Drive in 2020 to help feed local families in need in our Food Bridge Program! 
These funds allowed us to send grocery store gift cards to our families to fulfill BOTH our January 10 and 24, 2021 food deliveries. The gift cards enabled 38 of our clients to shop for fresh, healthy food for their families. Many of them are working with Britepaths financial mentors to become financially self-sufficient, and this support helps free up funds so they can save, pay bills or pay down debts to reach their budgeting goals.
DWCNV members have run this drive for us each fall for more than a decade, along with a toy drive for Fairfax County Firefighters and Friends to the Rescue to brighten the holidays for local children in need. We're so grateful for their generosity and ongoing support.
On January 24, our Programs Director Christina Garris and Development Director Shannon Bryant joined them for a virtual meeting to thank them for their support. We also enjoyed an update on activity in the Virginia Legislature from Virginia Senators George Barker and Jeremy McPike and Delegates David Bulova and Dan Helmer. 
Britepaths has a great need for more Supporting Organizations like DWCNV to help us fill our Delivery Calendar for 2021 by donating funds or gift cards to assist our families.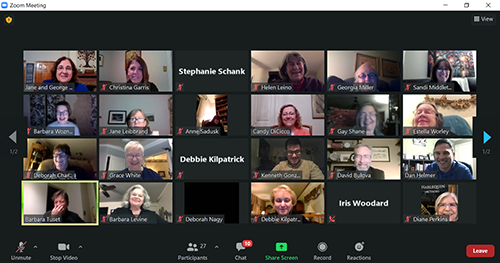 We enjoyed catching up virtually with DWCNV members and some of our Senators and Delegates from the Virginia Legislature on January 24.