Happy Anniversary to the FECSoCo!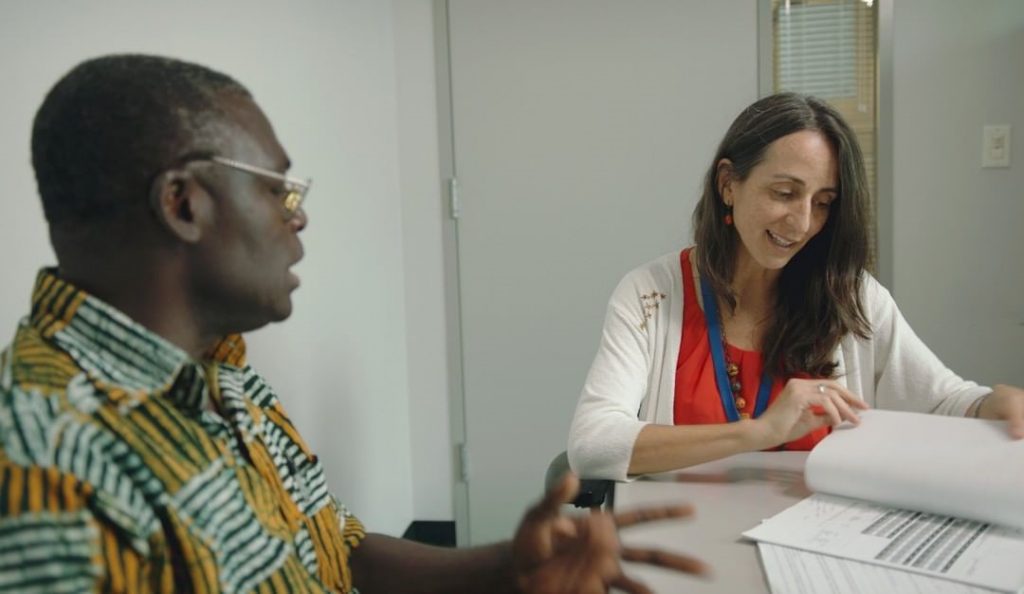 The Financial Empowerment Center at South County (FECSoCo) opened its doors to the public in July 2017 in what is now known as the Gerry Hyland Government Center in the South County section of Fairfax County. Since then, the Center has served 3,770 clients with a variety of free financially empowering services to support their efforts to move themselves out of poverty and achieve long-term financial stability.
In partnership with the United Way of the National Capital Area and Fairfax County, Britepaths oversaw the opening of the Center and continues to manage its operation and offerings, with the help of many volunteers and partner organizations.
FECSoCo is the second of four Financial Empowerment Centers that the United Way NCA has opened in the Washington DC Metro area. United Way NCA recently awarded Britepaths a grant to continue operating the FECSoCo through 2021, and we are excited to begin our fourth year of serving community members in this capacity. Click Here to learn more about the Financial Empowerment Centers.
When our region began to shut down due to COVID-19, FECSoCo staff quickly modified the Center's programming to be available virtually, and as of this writing, all services are available via phone and internet and staff is working largely from home. Click Here to learn more about Virtual Services.
FECSoCo's Free Services Include:
Financial Coaching
Workforce Development Coaching and workshops
Tax Preparation Consulting (year-round) and VITA Income Tax Assistance (Jan-Apr)
Small Business Consulting and workshops
Personal finance classes and workshops
Avenues to Career Training healthcare career preparation
Highlights
From July 2017 through June 2020, FECSoCo has provided:
1,400 Financial Coaching Sessions to 974 clients
415 Workforce Development Coaching sessions to 158 clients
4,380 Workshop sessions on topics including personal finance, workforce development and small business to 2,413 clients
95 sessions of Small Business consulting to 71 clients
3,674 tax returns filed through the assistance of year-round Tax Preparation consulting and annual VITA Income Tax Assistance
(Note: Many clients receive a number of services, such as several Coaching sessions or multiple workshops, but are only counted once)
A Special Thank You to Our Partners, Volunteers and Staff
It truly takes a community to make our work possible! We are grateful to numerous partner organizations and volunteers who have been working with FECSoCo in the past three years to help our neighbors acquire the knowledge and build the skills they need for success. And a big shout-out to Britepaths staff members who are working hard to make the Center a success! Several have been there since the beginning. We'd like to give a special thanks to the following organizations and individuals.
Partner Organizations
Click Here to learn more
African Community Center · Bridges to Independence · BB&T · Computer CORE · Fairfax County Coordinated Services Planning · Enterprise Development Group · FACETS · Fairfax County Consumer Affairs Branch · Fairfax County Department of Housing and Community Development First Home Alliance · Fulton Bank · Goodwill Greater Washington · Legal Services of Northern Virginia · Korean Community Service Center of Greater Washington · Fairfax County Department of Neighborhood and Community Services · Northern Virginia Community College · Northern Virginia Pro Bono Law Center · Second Story · TOGETHER Program · United Community · United Bank United Way of the National Capital Area · Virginia Career Works · Capital Asset Management Group
Volunteers
Chris Andall · Sarah Baker · Naima Barnes · Mark Booth · Rhonda Brown · Terrance Carty
Angela Coghlan · Rick Johnston · Ryan Miller · Robbie Mosley · Gary Mulder · Jim Rives
Robert Sharer · Aaron Torres · Adam Van Deusen
Britepaths Staff Operating the FECSoCo
Maria Jose Cantoni, FEC Director
Dawn Sykes, FEC Manager
Martha Borowski, AFC®, Financial Coach and Training Manager
Patricia Henao, FEC Assistant
Sally Meyer, Workforce Development Director
You Can Help Us Serve Even More Community Members
The FECSoCo's staff, volunteers and partners stand ready to serve MANY more community members. Please help us get out the word!
Share the Center's Contact Information:
Phone: 703.704.6101
Email: info@FECSoCo.org
Website: FECSoCo.org