Financial Mentoring: The Power of Changing a Life
"Nobody had taught her or her family what they needed to do financially. Just giving her basic financial education, as well as getting some help through the Foundation as well as Britepaths, really helped me provide her the information that she needed to succeed." — Dennis Elias, Financial Mentor
Watch this heartfelt video with our volunteer Financial Mentor Dennis Elias and hear first-hand how his work with mentoring client "Amey" made a profound impact on her life when she and her family were reeling from job loss and illness during the pandemic.
This video was created by the Foundation for Financial Planning (FFP), which for many years has granted us significant funds to support our free Financial Coaching, Financial Mentoring and other one-on-one financial empowerment services at Britepaths and the Financial Empowerment Center at South County.
FFP works throughout the U.S. to encourage financial services professionals to offer pro bono financial coaching in their communities, and we are grateful for the many amazing volunteers like Dennis who they have sent our way over the years. Learn more about FFP at: ffpprobono.org; or get involved at: probonoplannermatch.org. A transcript of the video is below.
---
Hear More from Amey: Amey sat down with our former Financial Empowerment Director Marcelle Miles last year and spoke in-depth about the impact of her work with Dennis and Britepaths. Click Here to view the video.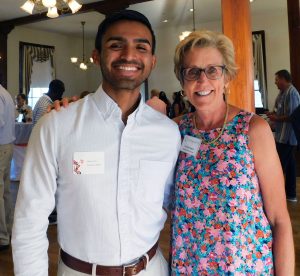 ---
Video Transcript:
[Amey] "Dennis — I really wanted to thank him and I appreciate him. You saved my life."
[Dennis] "My name is Dennis Elias and I've been volunteering with the Foundation for Financial Planning since 2020. I always wanted to be a financial advisor, and it was really to help people out — whoever they may be in whatever financial position they may be."
"As soon as i became an advisor that's the first thing that I tried to do — not only help our clients in our firm, but also help those that can't afford our services, and that's why I started volunteering."
[Amey] "Last year was a disaster, I know, for everybody, but for me, it was very difficult, and more. My husband had a very big surgery and I found myself in a very big depth of hospital bills, and the landlord asked me to evacuate the apartment because I am not able to pay the rent."
[Dennis] "When working with low-income clients, I really think that the most important thing is to have empathy for them because they are in a hard place in their lives. Amey really needed the most help with establishing a budget so that she could help pay off her debts, and also accumulate some emergency savings in the bank."
"She was just a great individual to work with she was very committed and really corralled her family to help her out so that she could get them to where they needed to be."
[Amey] "He teach me. He teach me how to contact the landlord. He teach me how to spend the money in the right ways."
[Dennis] "Nobody had taught her or her family what they needed to do financially. Just giving her basic financial education, as well as getting some help through the Foundation as well as Britepaths, really helped me provide her the information that she needed to succeed."
[Amey] "I've paid down like almost $6,000 of my debts. I paid all my taxes. I paid off all my dental work. It's amazing!"
[Dennis] "Many americans today are suffering financially, and it's not all rosy for everyone. And people really need help out there, which I think is why the Foundation for Financial Planning is so important in helping volunteers get out there in the field and help those that can't access a financial planner. Because the reality is that most Americans are suffering from many of the struggles that Amey is."
"That really sparked my memory of really how I grew up as well in a family that wasn't very wealthy and struggled financially. And I think that it grounded me more and made me realize again that what the Foundation for Financial Planning are doing, along with Britepaths, is so important. And just getting the word out there for other financial advisors to help those that need it."