People Like Myself Would Just Be Hopeless – Eva's Story
Update, May 2022: Eva's mentor Deidra Reid (at left with Eva in 2019) was recently profiled in the Fairfax County Times. She notes that Eva has now officially adopted her grandson. Eva told us her story (below) in 2019. We're so proud of Eva and grateful to Deidra for helping her get a handle on her finances and build her confidence so she could raise her grandson. Deidra's service has made an impact on several other clients as well. Deidra said she loves Britepaths because our team goes above and beyond for our clients. "I'm still in touch with every one of my clients." Read the Article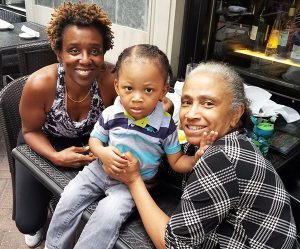 ---
"Because of my PTSD, I withdraw and push people away. And one time [my mentor] told me, 'You know, Eva, when you push the bad, you push the good,' and that hit me. I really appreciate her from the bottom of my heart. People like her, volunteering their time and helping us, I think that's marvelous. And I'm a living testimony of how it works!"
Eva is a disabled military veteran. She was living comfortably as an empty-nester when she learned that her daughter was in crisis and she would need to step in and take custody of her infant grandson. 
Suddenly, Eva was a full-time grandparent and needed many resources. She found Britepaths and received diapers, grocery gift cards, pantry items, and a stellar support system to get her started. She has also worked with a Financial Mentor so she could budget for her new reality. Eva and her grandson are now doing very well because our community came together to lift them up.
"Without organizations like Britepaths, people like myself would just be hopeless," Eva says.
Unfortunately 1 out of 16 people in Fairfax County are in a precarious financial situation like Eva was. Britepaths' staff and volunteers are working hard to provide hope and help these families Thrive.
Can YOU Help Too?