"It is because of Britepaths that we are still residents of Fairfax County today"
Britepaths client Roshon Casey-Lee testified before Fairfax County's Consolidated Community Funding Advisory Committee (CCFAC) on October 10, 2023. She shared the challenges she and her family have experienced due to high rent, and she detailed the ways Britepaths' holistic services gave her family the tools and resources that are helping them change their trajectory.
Working with Britepaths Financial Mentor Jessie Doll, Roshon has paid off debt and is building savings and working toward achieving new financial goals. She notes that the additional supports Britepaths provided, including Food Bridge grocery store gift cards and car repair assistance, eased stress and contributed to their financial stability as they recovered. She added that her husband is in Britepaths' current AWS re/Start certification training cohort, putting him on a path to a new career.
During her testimony, she said, "It is because of Britepaths that we are still residents of Fairfax County today….We are still fighting the battle to be on steady footing financially. However, I know that an agency like Britepaths is there for us to make us more competent and more hopeful that we will make it through this season of financial strain."
Britepaths receives significant grants through Fairfax County's Consolidated Community Funding Pool that help make our stability and personal empowerment programs possible. The committee invited testimony from the community as they assessed housing and community development needs to be addressed in the One-Year Action Plan for FY 2025.
Roshon had a lengthy commute from work to make it to this meeting to testify. We are grateful to her for taking the time to testify, and lending her voice to the necessary community discussion about the need for affordable housing, and the many supports involved in helping our neighbors succeed.
---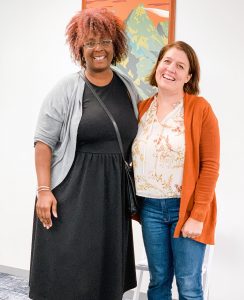 Read Roshon and Jessie's Stories
Roshon and her mentor Jessie shared their financial mentoring experience with our grantor, the Foundation for Financial Planning.