Britepaths Partners to Open Financial Empowerment Center at South County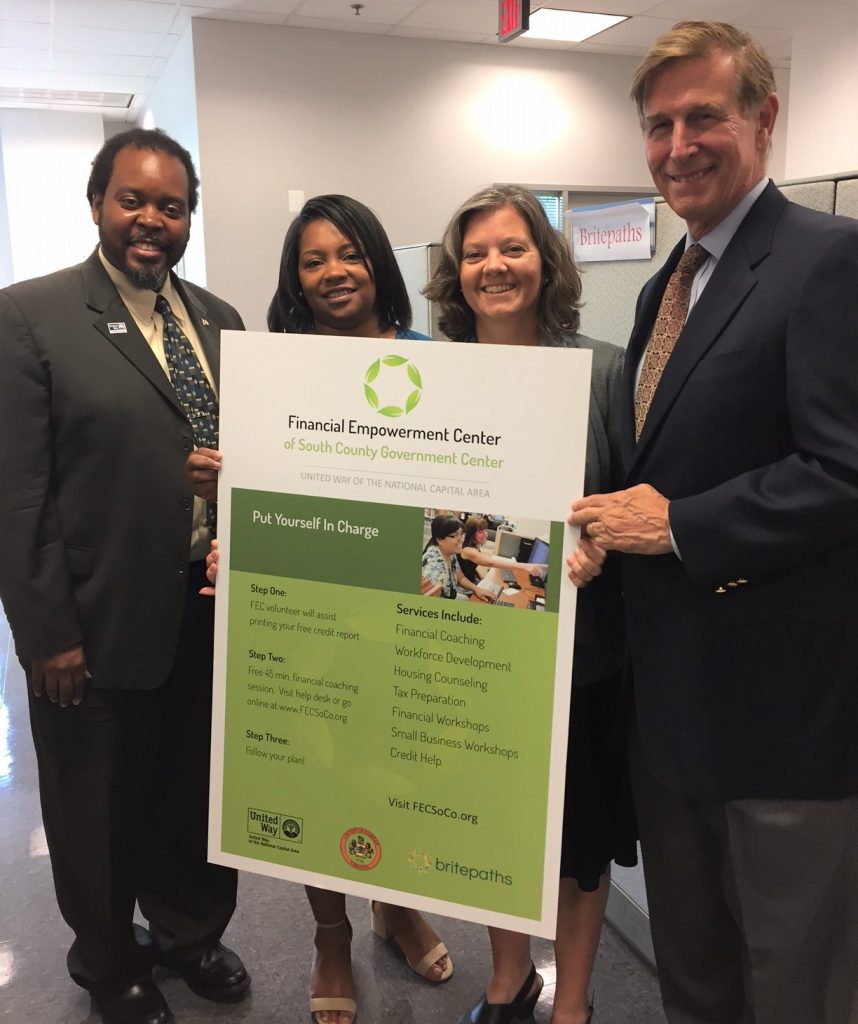 In July 2017, Britepaths began working with the United Way of the National Capital Area and Fairfax County's Neighborhood and Community Services to establish a new Financial Empowerment Center (FEC) at South County. As the lead non-profit partner, Britepaths has staffed the center and begun providing services to clients in its space in the South County Government Center.
Financial Empowerment Centers through the United Way are family-friendly places where hard-working, low-income people can access a range of financially empowering services to move themselves out of poverty and achieve long-term financial stability.
The new FEC at South County is currently offering Financial Coaching, budgeting classes, and financial workshops, and plans to add services in the coming months. A full list of services is available at FECSoCo.org and appointments may be made through the website or by calling the center. The FEC plans to open for two weekday evenings and two Saturdays per month.
On August 4, 2017, Congressman Don Beyer visited the FEC. He is pictured at right with United Way NCA's Timothy Johnson (left), FEC Manager Dawn Sykes, and Britepaths' Executive Director Lisa Whetzel.
Volunteer Financial Coaches Needed
Britepaths and the FEC at South County's greatest volunteer need is for Financial Coaches. This is a great flexible volunteer opportunity for adults with a financial background who are able to volunteer in Alexandria. Great for  AFCPE seeking practicum hours. Trainings are being held once a month. Click Here to view volunteer information.
Financial Empowerment Center at South County
South County Government Center
8350 Richmond Highway, Suite 125, Alexandria, VA 22309
703.704.6101
Learn More at: FECSoCo.org