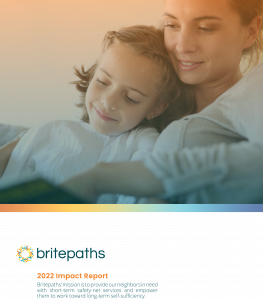 Britepaths is pleased to share our FY22 Impact Report
Although the nation got a powerful dose of hope when the COVID-19 vaccines were released, the stresses of the pandemic, combined with widespread job losses and economic disruption, continued to weigh down the recovery for thousands of Northern Virginia residents. Hard-won household reserves were depleted, struggling businesses folded, and people who had always managed to make ends meet were compelled to look for help.
In FY22, Britepaths rallied its resources and volunteers to serve 8,993 area households, boosting the wellbeing of 12,425 residents. To accomplish this, our staff harnessed resources provided by our supporters and the energy of 443 volunteers working 5,192 hours to achieve the following results:
Served 2,113 people with Financial Empowerment and Workforce Development Services
Served 1,337 families with Food Bridge and Financial Assistance Supports
Served 6,730 children and youth with Food4Thought weekend food packs, Back to School supplies, Holiday gifts and Financial Literacy
Organizational and program highlights include:
Launched our Workforce Development IT certification training courses
Administered substantial pandemic relief funding to help community members stay in their homes and have food on the table while they worked to regain their financial stability
Expanded our Financial Empowerment partnerships and offerings, helping us outreach to more Northern Virginia residents.
Furthered our Diversity, Equity and Inclusion goals and developing our DEI vision.
Note: Britepaths' Board of Directors voted to move our organization's fiscal calendar from a January to December format to a Fiscal Year format, July 1-June 30, commencing on July 1, 2021.
To request a printed copy of our FY22 Impact Report, phone 703.273.8829 or email info@britepaths.org.
Click Here to learn more about Britepaths' Financials